'What's Wrong With Secretary Kim' Episode 10 Spoilers: Mi So Uncovers Secret About Real Sung Yeon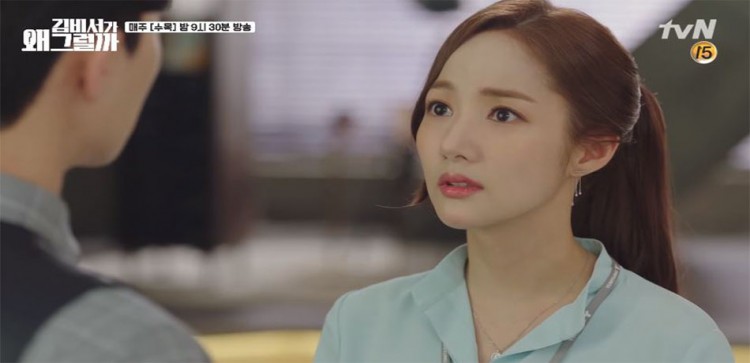 A childhood incident that changed the lives of two siblings will soon alter the present-day relationships of beloved characters. In What's Wrong with Secretary Kim Episode 10, little clues will continue to yield startling discoveries that will uncover the truth behind a horrific event.
Mi So (Park Min Young) has been having difficulties accepting the fact that the young boy she has been searching for is her boss' brother, Sung Yeon (Lee Tae Hwan). Given the wealth of information that she uncovered by talking to Young Joon's mom (Kim Hye Ok), Young Joon (Park Seo Joon) and Sung Yeon himself, she became more confused about the boy's real identity. The latest episode of What's Wrong with Secretary Kim even hinted that Mi So's boss and new boyfriend might be the person that she has been looking for all along.
Aired on July 5, What's Wrong with Secretary Kim Episode 9 showed an interesting scene where a very relaxed Young Joon gives out honest answers in his sleep. Strongly suspecting that Young Joon might be the young boy who saved her, Mi So tried to take advantage of her boyfriend's sleeping status to find out more about his childhood.
Armed with the recent knowledge of a very young Young Joon being the favored muse of a famous designer, Mi So remembered a conversation she had with Young Joon's mother who recounted how her abducted son wore one-of-a-kind cardigan gifted by a designer friend when he disappeared. Mi So suspected that Young Joon might have somehow used a different name when he was a child.
Mi So's suspicion was confirmed when she referred to her boss as Sung Yeon while Young Joon was sleeping. To her surprise, the sleeping Young Joon made a positive response which seemingly acknowledged that he is indeed Sung Yeon. In What's Wrong with Secretary Kim Episode 10, Mi So will continue to search for clues to discover the truth behind Young Joon and Sung Yeon's past.
The efficient secretary will even meet up with Sung Yeon at his house and question him about his childhood memories. A scene in the What's Wrong with Secretary Kim Episode 10 teaser showed Mi So asking Sung Yeon to identify which among the child photos of himself and Young Joon is his.
Meanwhile, Young Joon is adamant to make a drastic change so he can win the hearts of Mi So's two sisters. In What's Wrong with Secretary Kim Episode 10, viewers can expect to see the usual stylish businessman wearing plastic boots, a jumper and a silly hat as he harvests clams and other seashells on a very wet mudflat. The narcissistic boss will also try his hand at being a countryside farmer in his attempt to form a better bond with Mi So's siblings.
What's Wrong with Secretary Kim Episode 10 will be released on July 5. The drama airs every Wednesday and Thursday on tvN.
© 2020 Korea Portal, All rights reserved. Do not reproduce without permission.