Dog From Korea Loses It And Twerks After The Beat Drops To His Jam [Watch]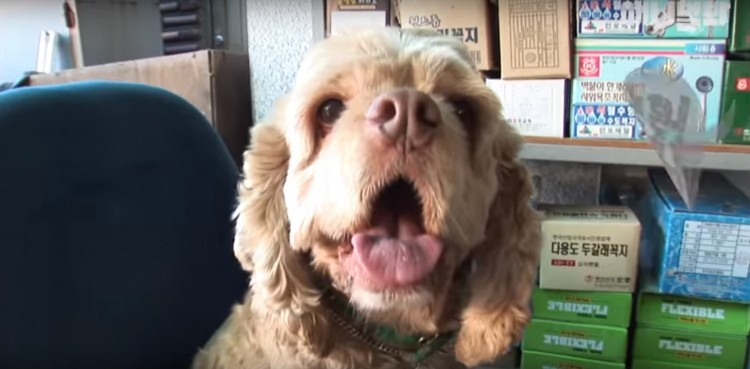 "Cats" is one of the most-searched-for terms on the internet, and YouTube videos starring felines account for more than 26 billion views, making them the single most popular category on the site. The curious little fluffballs still virally and vehemently rule the internet, but once in a while, a cute doggo steals the scene, and today, it's Mandoo's turn.
Mandoo is not your ordinary canine. He's one dog capable of capturing not only his owner's heart but the hearts of an entire nation. So what can Mandoo do that most dogs can't? Mandoo can shake his booty, and boy, he kills it every single time.
Mandoo: Korea's Twerking Dog
Mandoo was discovered by Korean broadcaster SBS TV recently. He appears to go loco over this one tune that his owner sings for him. It's a simple "La-la-la" tune, but once he hears it, he prompts himself onto a swivel chair and starts dancing.
There is a catch though; Mandoo will dance only if his owner sings for him. He does nothing when someone else tries to sing the tune, or if a similar "La-la-la" tune is played on a CD or the radio.
According to Mandoo's owner, she first discovered her beloved pet's skill when she picked him up to put him on a chair because the floor was too cold. Since then, Mandoo had been dancing on the exact same chair every time his owner sings for him.
And Mandoo is relentless, by the way. His favorite chair is slowly wearing out because of his dancing, that his owner is currently finding a new one form him to twerk on.
Popular Pets
Unfortunately, Mandoo doesn't have a social media account. And we're not sure if he'll ever get one considering his owner is a bit on the senior side. If he does make a debut on Instagram, he'll be soon added to the list of the world's most popular pets.
Some of the most followed dogs on Instagram include Jiffpom, a Pomeranian; Doug the Pug, Marnie, a Shih Tzu; and Shibainu Maru, a Shiba Inu.
© 2023 Korea Portal, All rights reserved. Do not reproduce without permission.