Park Bo Gum 2018: Song Hye Kyo's Rumored 'Boyfriend' Co-Star Shows Off New Haircut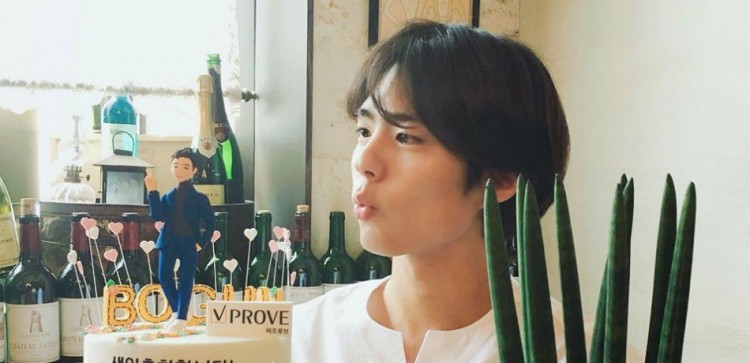 Park Bo Gum had been rocking a longer hairstyle, and many thought that the length gave him a softer look. Although fans believe that the Love in the Moonlight actor looks great with any kind of haircut, the longer style appeared to be the most popular. However, Song Joong Ki's pal recently showed off a new cut.
The last time fans saw the 25-year-old South Korean actor on screen was when he played Yi Yeong in Love in the Moonlight. Park Bo Gum had a really short haircut at the time, so seeing the beloved star with much longer hair was quite refreshing. In fact, many agreed that it's the hairstyle that suits him best.
Since Park Bo Gum never got a haircut for quite a long time, many assumed that his hair length was a preparation for an upcoming role. That thought was well-accepted until Song Joong Ki's pal showed off a completely new look on Music Bank's 20th-anniversary episode.
Although Park Bo Gum had a haircut, it wasn't really a drastic one. However, many didn't like it as much as the previous hairstyle. But fans assumed, once again, that by cutting his hair, it might be a hint that he may have already finished shooting for a new drama.
"Oppa, please tell me it's for your next drama!" a fan hoped. "Actors seem to grow their hair for new dramas. Since he already cut his hair does that mean we're getting one soon?" one fan said. "It's not bad, but personally I don't think it's his best style," another one commented.
Despite his popular long hair, some fans still prefer the short one as it shows off his face more. Others were not too happy with the new look but felt that he still looks handsome.
"Bogum, please cut your hair I personally think you look better with short hair… I can't see enough of your handsome face," the fan said. "What the… It's kind of weird, but he still looks good," another one shared.
Meanwhile, Park Bo Gum is already confirmed to be a part of the upcoming drama titled Boyfriend. Song Hye Kyo is also in talks to be taking the role of Cha Soo Hyun in the drama. She has yet to accept or decline the offer.
© 2023 Korea Portal, All rights reserved. Do not reproduce without permission.