Girls' Generation's Seohyun To Play Chef Role In Upcoming K-Drama 'Time'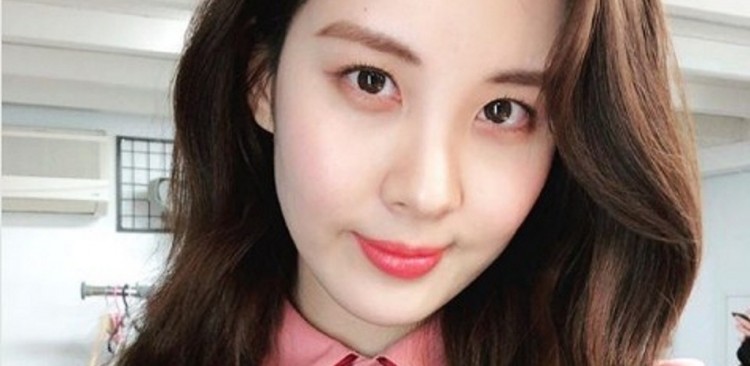 Girls' Generation member Seohyun will be holding knives and pans in the upcoming Korean drama, titled Time. In the series, the K-pop singer will be playing the role of an aspiring chef.
Time tells the story of four people, one of which is Seohyun's character, whose lives intertwine because of the choices they made at some point in their lives. Seohyun will portray Seol Ji Hyun, an aspiring chef who dreams to travel to Paris.
Ji Hyun's family faces a tragedy when her younger sibling suddenly dies. At a young age, Ji Hyun acted as breadwinner because her mother can't make a living. Seohyun is expected to impress viewers with her acting in Time.
The singer shared some snaps of her character Seol Ji Hyun while filming at the Le Cordon Bleu Sookmyung Academy in Korea. The photos showed Seohyun in a chef's outfit while taking a culinary exam. Reports indicate that the K-pop singer has been filming in the culinary academy since last month.
The Time production staff are all praises for the idol. The crew shared that their set brightens up whenever Seohyun comes in.
"She brightens and excites the mood of the place. It's probably because her actual personality embodies the bright and positive characteristics of Seol Ji Hyun. The staff can't help but praise her passion for acting," Soompi quoted the staff as saying.
The series also stars actors Kim Jung Hyun, Kim Joon Han, and Hwang Seung Eon. It is scheduled to premiere by the end of July and will air every Wednesdays and Thursdays.
In October 2017, Seohyun, along with Girls' Generation bandmates Tiffany and Sooyoung, left SM Entertainment after their contract ended. The group did not disband, and the future activities of Seohyun with GG remain in discussion.
Seohyun decided to focus on her acting career after leaving SM Entertainment. It is not clear if there was an agency who help her secure the role in Time.
There were earlier reports that Seohyun already parted ways with Sublime Artist Agency. Apparently, Seohyun has been carrying out her promotions completely separate from the agency for the past month with the help of small individuals that she trusts including her father. There were also speculations that Seohyun is planning on setting up her own agency.
Sublime Artist Agency, however, released a statement saying they don't have any management contract with Seohyun. The agency clarified that they only work with the singer for advertisements and they will continue to collaborate with Seohyun on advertisement-related matters.
© 2019 Korea Portal, All rights reserved. Do not reproduce without permission.