'What's Wrong With Secretary Kim' Episode 9 Spoilers: Young Joon, Mi So Begin Office Romance; Young Joon To Reveal Truth About Childhood?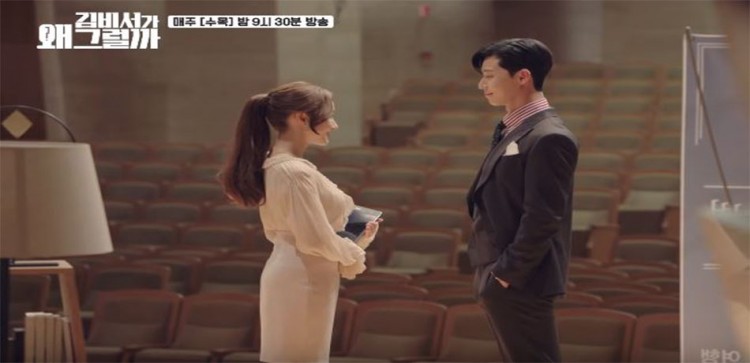 Beloved characters will have a hard time hiding their happiness over a new relationship in the upcoming What's Wrong with Secretary Kim Episode 9. Latest spoiler news teased about Young Joon's (Park Seo Joon) transformation after Mi So's (Park Min Young) love confession.
A romantic kiss paved the way for Young Joon and Mi So to embark on a new relationship with each other. Featured in What's Wrong with Secretary Kim Episode 8, the said secretary ran after her narcissistic boss who stormed out of a conference hall after hearing his brother Sung Yeon (Lee Tae Hwan) publicly declaring his love for Mi So. The novelist made the revelation while being interviewed at a book concert affair held to commemorate the opening of Young Joon's company's new Art Center.
Despite Sung Yeon keeping Mi So's name a secret and only described her as a person that he recently reconnected with and wanted to protect, Young Joon knew that his brother was referring to the said secretary. Mi So was also taken by surprise with Sung Yeon's pronouncement and decided to clarify the situation with her boss.
Young Joon and Mi So's tense confrontation in What's Wrong with Secretary Kim Episode 8 became a love confession with the latter admitting that she has feelings for him. Aired on June 28, the said episode ended with a romantic kiss between the two characters.
Avid viewers can expect to see more sweet moments between Young Joon and Mi So in the upcoming What's Wrong with Secretary Kim Episode 9. The couple's new dating status will also transform Young Joon into a different man. Young Joon's subordinates will even notice the change in their usual narcissistic boss and will suspect that something might be happening between the CEO and his secretary.
Meanwhile, it is still unclear if Young Joon will follow Yoo Sik's (Kang Ki Young) advice and unveil the truth of his and Mi So's childhood encounter together. It appears that Young Joon might be the boy that Mi So has been looking for and not the said CEO's brother Sung Yeon. However, Mi So's new boyfriend might decide to delay revealing what really happened in the past in order to protect his loved ones from the painful truth.
What's Wrong with Secretary Kim Episode 9 will be released on July 4. The drama airs every Wednesday and Thursday on tvN.
© 2023 Korea Portal, All rights reserved. Do not reproduce without permission.