'This Is Us' Star Lonnie Chavis Has Powerful Message For Online Bullies Who Make Fun Of His Teeth; Reminds Kids Not To 'Trip'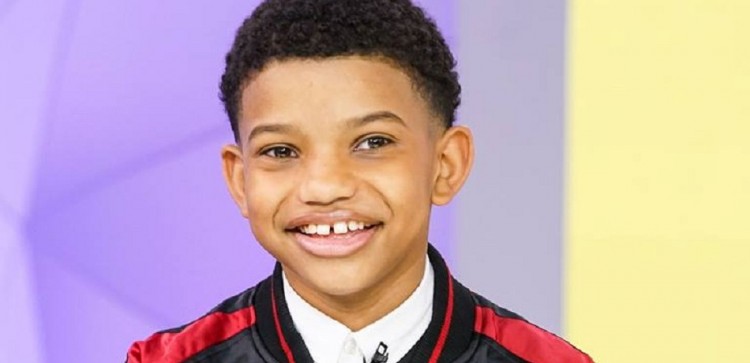 This Is Us star Lonnie Chavis has proven that he is not the one that bullies should mess with. He may be young and small, but Chavis is standing tall against bullies. Chavis, who played the famous role of young Randall in the NBC drama, shared his powerful view about online trolls.
In a video posted on his social media accounts, Chavis, at first, told trolls to stop talking about the gap between his front teeth. Then he assured his fans that he can handle bullies and said, "don't trip," and instead do what pleases them. "I could get my gap fixed, braces can fix this, but can you fix your heart though?" Chavis asked the bullies in the clip.
The 10-year-old actor's main concern wasn't for himself. He expressed sympathy for other children who have to face bullying, like he does, and discuss the consequences of internet trolling.
"There are kids out here killing themselves just because of y'all hatin' and trollin' and doing just crazy stuff. It's stupid. Is it fun? No. It hurts people. People kill themselves, and you're the one who's making them do it. Fix your heart, though. For real.
"I'm happy that I can handle this. But there are kids out here, if y'all kids are watching this, don't trip. Be who you want to be. Do what you want to do. Do you. Be you. Believe in yourself," Chavis added.
"To all those being bullied or being trolled YOU ARE BEAUTIFUL, YOU ARE AWESOME, and YOU MATTER!" the BET Award-nominee also wrote in the caption of his video.
This message definitely makes his on-screen parents Jack (Milo Ventimiglia) and Rebecca Pearson (Mandy Moore) really proud. In the TV series This Is Us, young Randall was also bullied even by his brother Kevin. But their parents make him feel loved.
The Pearson couple constantly teaches Randall some life lessons. Remember, the tear-jerking push-up moment between Jack and Randall in Season 1? Papa Pearson told his son that he would carry him through all of life's obstacles and it made many viewers cry hard.
Chavis is a wise and strong young man both on and off camera. He also knows how to fight for himself. Before landing a role in This Is Us, he narrowly escaped a kidnapping in Long Beach, New York.
He said two men wearing gloves and masks who tried to grab him came at him when he took the trash out near his home. Despite the kidnappers pushing him on the ground, he stood up and ran away. He was later found by his neighbor sobbing in the street.
© 2023 Korea Portal, All rights reserved. Do not reproduce without permission.