New 'Game Of Thrones' Season 8 Theory Suggests Sansa Stark Will Take The Iron Throne With An Unexpected Partner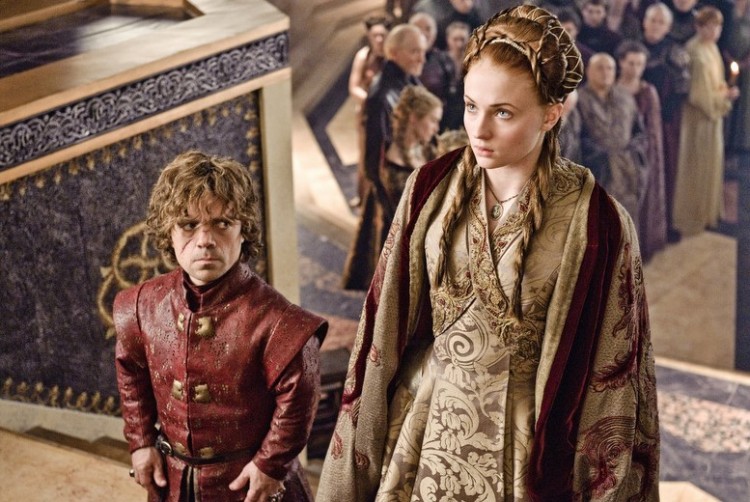 Several questions will finally be answered in Game of Thrones Season 8. The HBO show's final season is expected to confirm if Jon Snow and Daenerys Targaryen actually end up having a child or whether Cersei Lannister will be killed by her own brother Jaime. However, the biggest mystery of the series is set to be solved early next year: Who will ultimately take the Iron Throne? The answer might not be as simple as electing a new King in the North.
Fans have argued that the conclusion of Game of Thrones Season 8 will be a major plot twist that nobody will suspect. This has led to ridiculous theories claiming the ruler of Westeros might be Gendry, Samwell Tarly, or even a random character like Hot Pie. However, another theory has a valid argument suggesting that Sansa Stark will be the new Queen of the Seven Kingdoms in the final season. In addition to that, the Lady of Winterfell is expected to rule alongside her first husband, Tyrion Lannister.
So how exactly will this happen? There are speculations that Jon Snow and Daenerys Targaryen will manage to defeat Cersei Lannister and take over the Iron Throne. However, the two might also be killed during the battle against the White Walkers.
Since they do not have an heir, Jon's family will be able to claim the throne. Sansa Stark is the eldest surviving Stark sibling and is set to rule Westeros. Although it is unlikely that Sansa will still honor her marriage to Tyrion Lannister, the Lady of Winterfell could take Dany's former Hand to be her own because of his wise guidance.
The theory goes further by pointing out that George R.R. Martin may have fashioned the storyline of A Song of Ice and Fire after Henry VIII's line of succession. After all, the once attractive king died as an obese man with a festering wound (like Robert Baratheon) and was succeeded by his blond son Edward VI (Joffrey and Tommen Baratheon) who both died at a young age. The throne was then taken by force by Mary I (Cersei Lannister), a terrible woman who enjoyed executing people (definitely Cersei). Interestingly, Mary's death led to the rise to power of Henry's red-haired daughter Elizabeth I (Sansa Stark).
Sansa Stark's life is certainly similar to the turmoils Elizabeth I endured when she was younger. If the theory is true, there is a huge possibility that Westeros will prosper under the rule of the new Queen of the Seven Kingdoms in Game of Thrones Season 8.
© 2019 Korea Portal, All rights reserved. Do not reproduce without permission.