'What's Wrong With Secretary Kim' Spoilers: Park Seo Joon, Park Min Young Romance Heats Up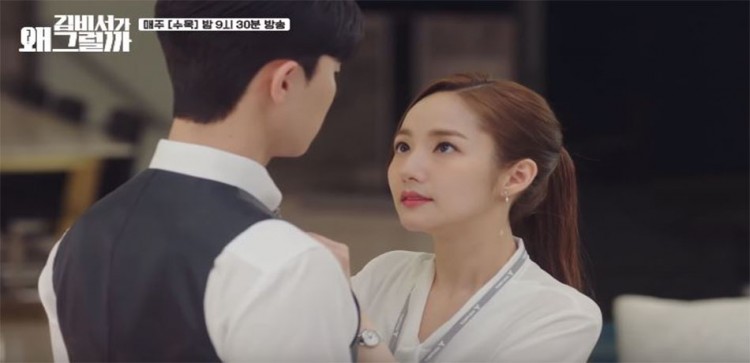 An unexpected situation will pave the way for beloved characters to grow closer to each other. In the upcoming What's Wrong with Secretary Kim episode, Park Seo Joon will attempt to become Park Min Young's knight in shining armor.
Young Joon (Park Seo Joon) and Mi So's (Park Min Young) blooming romance may have suffered a hit when the narcissistic boss discovered the truth behind his secretary's sweet behavior. Featured in What's Wrong with Secretary Kim Episode 6, the two characters became awkward with each other when the said businessman learned that Mi So mistakenly assumed that he was the boy that she has been looking for.
A hopeful Mi So initially believed that Young Joon was the abducted boy who helped her remain calm during a frightful situation. Upon learning that it was Young Joon's brother Sung Yeon (Lee Tae Hwan) who was kidnapped while he was a child, she confronted both brothers and became withdrawn towards her boss.
However, Young Joon and Mi So's relationship will soon change. Latest spoiler news for What's Wrong with Secretary Kim teased of Young Joon's renewed determination to pursue his secretary. The narcissistic young man will even receive valuable relationship and dating tips from his best friend Yoo Shik (Kang Ki Young).
Yoo Shik has been Young Joon's relationship guru and was instrumental in the latter's decision to woo Mi So. Avid viewers of What's Wrong with Secretary Kim can look forward to seeing funnier scenes between the two characters as they spend an interesting day at a boxing gym and grocery store.
With Young Joon adamant to take his romance with Mi So to the next level, the said businessman will decide to join an out-of-office workshop attended by his secretary. A rainy day will even provide him with a chance to become Mi So's knight in shining armor as he offers his jacket to keep them dry.
The upcoming What's Wrong with Secretary Kim episodes will also feature Young Joon trying to comfort a distraught Mi So. Similar to Young Joon's aversion for cable ties, and it appears that Mi So will experience a scary encounter with spiders that will trigger a panic attack.
Meanwhile, a source from the drama teased that the workshop will further strengthen Mi So and Young Joon's bond. Viewers can expect to see Young Joon's deepening love for Mi So. Moreover, details about the mysterious incident that scarred a young Young Joon will also be revealed.
What's Wrong with Secretary Kim Episode 7 will be released on June 27. The drama airs every Wednesday and Thursday on tvN.
© 2023 Korea Portal, All rights reserved. Do not reproduce without permission.