BIGBANG T.O.P Military Service Update 2018: Has G-Dragon's Pal Finally Moved On From Scandal?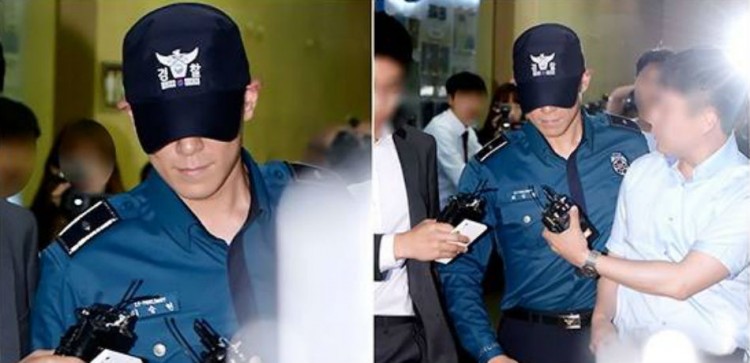 Unlike G-Dragon, Taeyang, and Daesung, T.O.P doesn't have enough updates about his mandatory military service that led fans to wonder about his current state. Following the BIGBANG star's shocking marijuana scandal and a trip to the hospital after taking a lethal amount of tranquilizers, fans are curious to know if he had finally moved on from it.
The 30-year-old South Korean rapper, singer, songwriter, record producer, and actor had a tough year last year. T.O.P was suspended from his military duties after it was confirmed that he smoked marijuana with a YG Entertainment trainee Han Seo Hee, who also happened to be his girlfriend at the time.
His embarrassment over the controversy clearly affected the BIGBANG star as he took an excessive amount of anxiety pills and was rushed to the hospital. Doctors revealed at the time that T.O.P's blood pressure was extremely high and his heartbeat was very high when he first arrived.
Fans all over the world showed their love and support for T.O.P on social media, and the hashtag #StayStrongTOP even reached the number one trending on Twitter at the time. This was probably one of the reasons why the BIGBANG star managed to pull through, knowing that many are still behind him despite the controversy.
Now, T.O.P has continued his compulsory duties after receiving his 10-month prison sentence and 2-year suspension. His return is kept as low-key as possible due to the sensitivity of his case.
However, despite all the efforts of making his enlistment as private as possible, photos and videos of the BIGBANG star emerged online. After seeing his snaps and clips, fans were happy to see T.O.P looking comfortable and happy. He also appeared to have adjusted well in his new environment.
Being in the Korean entertainment world for over a decade means that BIGBANG has already reached superstardom. However, it also means that they are old enough to fit the age bracket to do their military service. T.O.P's bandmates G-Dragon, Taeyang, and Daesung are currently serving their compulsory duties while youngest member Seungri is expected to enlist before the end of the year.
© 2023 Korea Portal, All rights reserved. Do not reproduce without permission.