'Running Man' Updates: Song Ji Hyo's Team Encounters Immigration Problem, Lee Kwang Soo Proves Popularity In London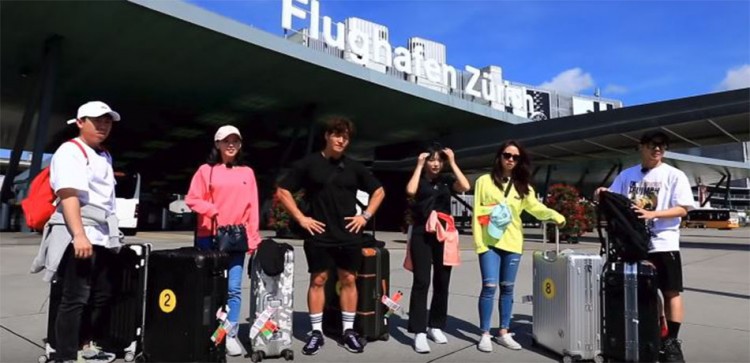 Cast members and special guests of the variety show Running Man recently traveled to the UK and Switzerland as part of a Family Package mission. Song Ji Hyo's Switzerland team faced an unexpected hurdle at the airport, while Lee Kwang Soo was welcomed with loud cheers by his London fans.
After several weeks of waiting, showrunners of the SBS variety show finally unveiled the reward and punishment trip for its cast members. Aired on June 24, the said Running Man episode featured Song Ji Hyo and her teammates excitedly boarding a plane for their flight to Switzerland.
The reward trip was awarded to Song Ji Hyo, Kim Jong Kook, Yang Se Chan and Haha, including special guests Kang Ha Na and Hong Jin Young. Dubbed the Luxury Package, the six celebrities won the Switzerland vacation treat after completing several challenges from the show's previous Family Package mission episodes.
Song Ji Hyo and her team's flight from Seoul to Switzerland was mostly uneventful, aside from an immigration incident. The actress' teammate Hong Jin Young was questioned by a Swiss immigration officer due to a discrepancy in the singer's passport picture.
Given that Hong Jin Young's actual appearance is slightly different from the picture posted on her passport, the officer had a hard time validating the said travel document. Song Ji Hyo's teammate even recounted how the officer looked at her several times while checking her passport. The songstress was then granted entry to Switzerland after she joked about having a "face upgrade."
Meanwhile, Lee Kwang Soo had a positive experience when he and his team arrived in London to complete their Shuddering Package tour. The Entourage star and his Running Man teammates were surprised when a group of local fans welcomed them at the airport. He even enjoyed several minutes of fame when his fans began chanting his name.
Other celebrities who joined Lee Kwang Soo in the Shuddering Package tour included Running Man cast members Ji Suk Jin, Yoo Jae Suk and Jeon So Min, as well as guests Lee Sang Yeob and Lee Da Hee. Unlike Song Ji Hyo's team, the said group is set to stay overnight in a haunted castle and partake in a wing-walking challenge on top of a small flying plane.
Running Man airs every Sunday on SBS. Avid viewers can look forward to seeing more of the cast members and their guests' London and Switzerland adventures in upcoming episodes.
© 2023 Korea Portal, All rights reserved. Do not reproduce without permission.