'Running Man' Star Lee Kwang Soo Calls Out Jun So Min For Telling A Lie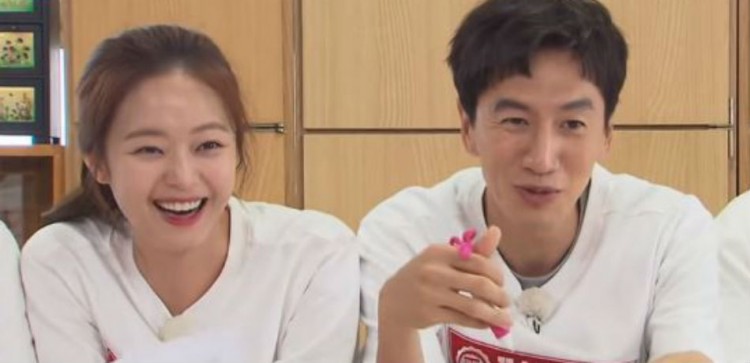 "Running Man" cast members Lee Kwang Soo and Jun So Min engaged in a funny argument during the latest episode of the SBS variety show. Aired on June 3, Sunday, the two South Korean celebrities traded barbs back-and-forth during a quick discussion about body weight and health.
The latest episode of "Running Man" had several of its cast members accomplishing a consent and waiver form for the Wing Walk challenge in the UK. Part of the "Shuddering Package in England" adventure where participants would need to walk on the wings of a small aircraft while in the air. Lee Kwang Soo, Jun So Min, Ji Suk Jin, Yoo Jae Suk and guest star Lee Da Hee were chosen to complete the said death-defying mission to be featured in an upcoming episode.
Upon inspecting the consent and waiver form, the four "Running Man" cast members noticed some of the conditions stipulated in the document such as weight limits and other health ailments. With a weight limit of 80 kg (approximately 176 lbs), Lee Kwang Soo commented that given his current weight of 76 kg (approximately 167 lbs), he would only need to gain 4 kg (approximately 9 lbs) to be exempted from the ride. Jun So Min then mentioned that she, along with Lee Da Hee, would have no choice but to participate in the challenge given their weight.
The "Cross" actress even shared that she would have to gain 30 kg (approximately 66 lbs) to meet the maximum weight threshold. Jun So Min's comment had Lee Kwang Soo and Yoo Jae Suk exclaiming in disbelief, according to AllKpop. The "Live" actor also jokingly berated his fellow cast member for lying about her weight and asked her to stop referring to how much she weighed during her 2013 "Princess Aurora" drama days.
Despite alluding to weighing only 50 kg (approximately 110 lbs), Jun So Min's true weight of 53 kg (approximately 116 lbs) was revealed by Ji Suk Jin. The said "Running Man" cast member discovered the truth when he had a chance to peek at the actress' accomplished consent and waiver form.
Meanwhile, Jun So Min recently celebrated her first-year anniversary as a "Running Man" cast member. Having joined the SBS show in April 2017, alongside comedian Yang Se Chan, the actress credited the said variety program as her big breakthrough. In an interview with News1, as cited by Soompi, she highlighted how her fanbase has grown since joining the show.
Jun So Min even stated how she started getting casting offers for characters with a bright and cheerful disposition. "The Running Man" star also credited the SBS show for helping her break through the limitations of her image as an actress and TV personality.
Viewers can look forward to seeing more funny antics from Lee Kwang Soo, Jun So Min and other cast members in upcoming episodes of the long-running variety show. "Running Man" airs every Sunday on SBS.
© 2023 Korea Portal, All rights reserved. Do not reproduce without permission.