BTS's RM Still Confused With What His Initials Stand For, Jin, Suga, J-Hope, Jimin, V & Jungkook Offered Suggestions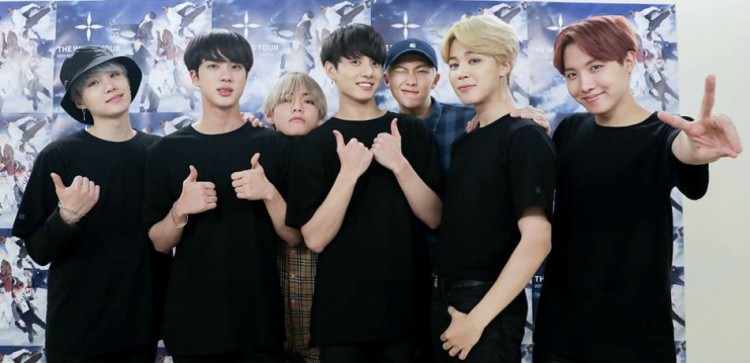 BTS's RM was famously called "Rap Monster" when they debuted back in 2013 until last year. The Big Hit Entertainment boy band's leader had decided to change his stage name to RM but is having a difficult time finding what his initials stand for now. To help him solve his dilemma, Jin, Suga, J-Hope, Jimin, V, and Jungkook pitched a few of their suggestions.
RM (Kim Nam-joon) took to the official fan cafe site of BTS to write a lengthy blog post, explaining his decision of wanting to change his stage name. The 23-year-old South Korean rapper, songwriter, and record producer shared that he's marking a new direction in his artistic path with a new name and felt that "Rap Monster" belonged in his past.
"When I was a trainee, I started calling myself Rap Monster because of a song I did," RM wrote. "Then naturally, I just kept saying this was my stage name and it stuck. After promoting under this name for awhile, I realized my name was really long, and the name Rap Monster wasn't representative of the type of music I wanted to do in the future."
Calling their leader with a different name certainly had a lot of getting used to. In fact, Jungkook accidentally called RM by his old nickname, "Rap Monnie" during their June 10 broadcast. The golden maknae then quickly explained that RM stood for "Rap Mon" when J-Hope laughed at him for the slip.
When RM shared that the meaning of his initials still hasn't been decided, his members started to offer some suggestions. Suga said RM stands for "Rap Master." J-Hope, however, took a totally different approach and focused on RM's caring side and suggested that RM should stand for "Real Mother."
Jungkook then tried to make up for his minor slip-up and suggested "Romance Master." But then RM seemingly settled for J-Hope's other pitch, which is "Role Model."
ARMY's also made some suggestions like "Rich Man," "Reading Master, "Really Modest," and "Really Moody." For now, J-Hope's suggestions (especially the first one) appear to fit best to RM's initials.
© 2023 Korea Portal, All rights reserved. Do not reproduce without permission.