4Minute Update: Jihyun Reveals Her Struggles After Disbandment; K-Pop Singer Still Hoping For A Reunion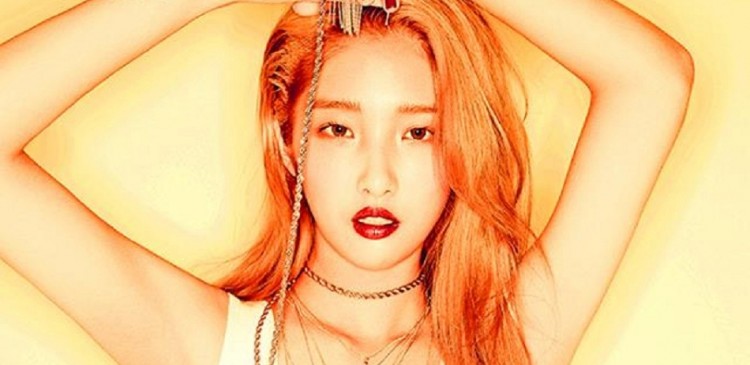 Korean singer Jihyun has opened up about her struggles following the disbandment of K-pop girl group 4Minute. Jihyun, Gayoon, Jiyoon, Hyuna, and Sohyun parted ways in 2016 after performing together for seven years.
Jihyun will grace the July cover of @star1 Magazine. During an interview with the magazine, Jihyun confessed that she had a very difficult time after the 4Minute disbandment. She admitted that at one point she got afraid of meeting people.
"I really had a hard time for a year after 4Minute disbanded. I was afraid of meeting people so I avoided going out for a month. I felt empty at how the seven years disappeared all at once but I got myself together, telling myself that I'm Jihyun of 4Minute," Jihyun said.
In another interview, Jihyun admitted that she feels sad whenever she remembers 4Minute and her bandmates. She recalled a time when she was asked by her friends to sing 4Minute songs.
"I went to the karaoke with my friends not too long ago and they asked me to sing 4Minute's songs and it weirdly made me sad when they asked me that. The disbandment is still fresh in my mind so it's a painful memory to me," Jihyun admitted to the HIGH CUT magazine (via Koreaboo).
4Minute debuted in 2009 with the single, "Hot Issue." In 2011, the group dropped their first Korean full-length album, 4Minutes Left. The K-pop band was able to release two studio albums and seven EPs before it was disbanded in 2016. Jiyoon, Gayon, Sohyun, and Jihyun decided not to renew their contract with Cube Entertainment while Hyuna opted to continue with her solo career with the agency.
Last month, Jihyun was asked about her thoughts about Hyuna's renewal of contract with Cube Entertainment. She admitted that she was upset at first but later on understood Hyuna's decision. Jihyun added that she hopes that all members of 4Minute will meet up in the future.
So far, there has been no word about the possible 4Minute reunion on stage. Four members of the group, however, had a mini-reunion last year. Jiyoon met with former bandmates Gayoon, Jihyun, and Sohyun in April 2017 and shared a photo of them on Instagram. Fans immediately noticed the absence of Hyuna in the reunion.
Meanwhile, Jihyun also revealed her future plans. She has decided to be a great actress after her stint on stage as a singer. In fact, she is now committing her full time in acting classes to learn and gain expertise as an actress.
Jihyun said she sees herself in Korean singer-turned-actress Seo Hyun Jin and Jung Rye Won. Jihyun explained that she admires Seo and Jung as they all have the same fate. Seo Hyun Jin was the main vocalist of Korean girl group M.I.L.K. while Rye Won was a former member of now-defunct girl group Chakra. Both singers are now actresses.
© 2022 Korea Portal, All rights reserved. Do not reproduce without permission.