'What's Wrong With Secretary Kim' Episode 6 Spoilers: Park Seo Joon Suffers Aftermath Of Failed First Kiss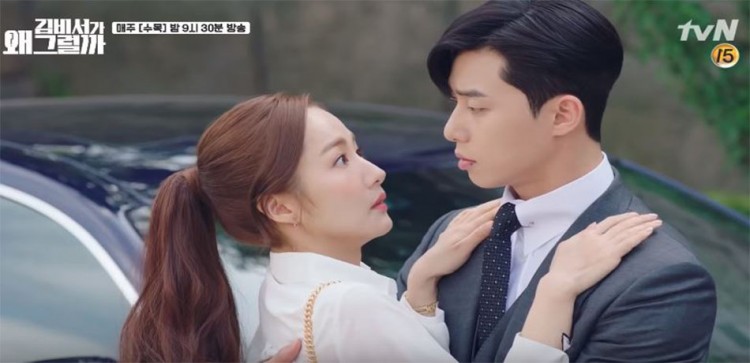 Romance might be brewing between a narcissistic boss and an efficient secretary in tvN's adaptation of a popular webtoon. However, a failed kiss might derail the said couple's new relationship. In the upcoming What's Wrong with Secretary Kim Episode 6, Park Seo Joon and Park Min Young's characters would have to deal with the aftermath of a first kiss gone wrong.
What's Wrong with Secretary Kim Episode 6 promises to showcase Young Joon's (Park Seo Joon) cute antics to try and win Mi So's (Park Min Young) heart once again. Following a disastrous yet comedic end to the couple's first kiss, the former will have a challenging time convincing the latter of his romantic intentions.
After unintentionally pushing Mi So away just moments before their kiss, Young Joon will try to placate his furious and embarrassed secretary. The teaser clip for What's Wrong with Secretary Kim Episode 6 showed the said businessman attempting to explain what happened.
Given Mi So's embarrassment and anger, the irate secretary will try to brush away her boss' explanation. The situation will also push Young Joon to make amends by behaving as an "ordinary man." Given the said businessman's narcissistic nature and expensive taste, viewers can look forward to seeing Young Joon doing what normal people do such as riding the bus, going to a simple barbeque place and even playing with a claw machine.
Moreover, the claw machine will incite Young Joon's competitive nature in the upcoming What's Wrong with Secretary Kim Episode 6. Believing himself to be perfect in every way, Young Joon will feel frustrated and challenged after failing to get a doll prize for Mi So. The rich businessman will even behave like a child as he tries to master the claw machine.
Meanwhile, Young Joon and Mi So's fragile relationship might suffer another hit as the latter continues to work with the former's brother. Jealous and wary over Sung Yeon's (Lee Tae Hwan) interest in Mi So, Young Joon's animosity towards his sibling might negatively impact his blooming romance with his secretary.
What's Wrong with Secretary Kim Episode 6 will be released on June 21. The drama airs every Wednesday and Thursday on tvN.
© 2019 Korea Portal, All rights reserved. Do not reproduce without permission.