'Wreck-It Ralph 2' Updates: Netizens Blast Weird Cinderella, Mario Might Play Special Role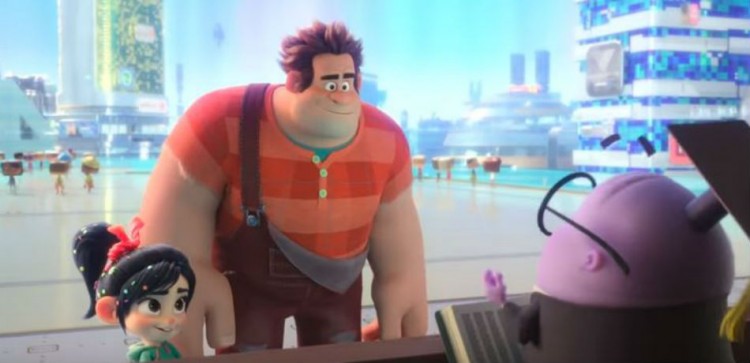 Disney recently released the latest trailer for the upcoming animated movie Ralph Breaks the Internet: Wreck-It Ralph 2 that included a quick peek at several Disney princesses such as Cinderella, Snow White, and more. Latest speculations even hinted that Mario might play an important role in Ralph's new adventure.
The latest trailer for Wreck-It Ralph 2 presented avid Disney fans with a colorful look at Vanellope and Ralph's new journey as the two friends explore cyberspace. Apart from encountering Stormtroopers from the Star Wars movies, the glitchy yet spunky Vanellope also had an accidental meeting with Disney princesses.
However, netizens commented on the strange appearance of the classic Disney princess Cinderella. Unlike the character's original version where the ears were not drawn and seemingly hidden inside her hair, Wreck-It Ralph 2 animators added the missing body part. The add-on was meant to complete the character's facial features, but the enhancement only made Cinderella look weird. A recent social media post even highlighted the two different looks of the said Disney princess.
There was something bothering me on Cinderella's 3d model. It's not that I don't like it but she somehow looked different and I didn't know why, I just realized it's because SHE NEVER HAD EARS IN THIS COSTUME pic.twitter.com/EnEU013yPb — Alicia (art hiatus until July) ️ au (@kaprikume) June 5, 2018
Apart from drawing the ears, Wreck-It Ralph 2 animators also made small changes to the Disney princess' hairstyle, according to Slash Film. The classic Cinderella had a French chignon bun where the ears are typically hidden, but the new Cinderella had a more updated brush-up hairstyle with a bun on the top.
Meanwhile, several fans are also looking forward to seeing Mario in Wreck-It Ralph 2. Following the appearance of Mario's nemesis Bowser in the Disney movie's first installment, many fans hoped for showrunners to include the beloved plumber in the sequel.
Director Rich Moore also previously commented that he had special plans for the said Nintendo game character. Mario will even likely play an important part in Ralph's new cyberspace adventure.
Moreover, it appears that the production team already completed the voice casting activities for the Mario role. The latest IMDB page for Wreck-It Ralph 2 identified Charles Martinet as the voice talent behind the said character.
At this time, showrunners have yet to confirm or deny Mario's appearance in the upcoming movie. Ralph Breaks the Internet: Wreck-It Ralph 2 is slated to hit movie theaters on November 21, 2018.
© 2019 Korea Portal, All rights reserved. Do not reproduce without permission.