LOCO x Hwasa Dating: MAMAMOO Idol Turns Up The Heat With 'It's Dangerous Beyond The Blankets' Star In Steamy New 'Don't Give It To Me' MV [WATCH]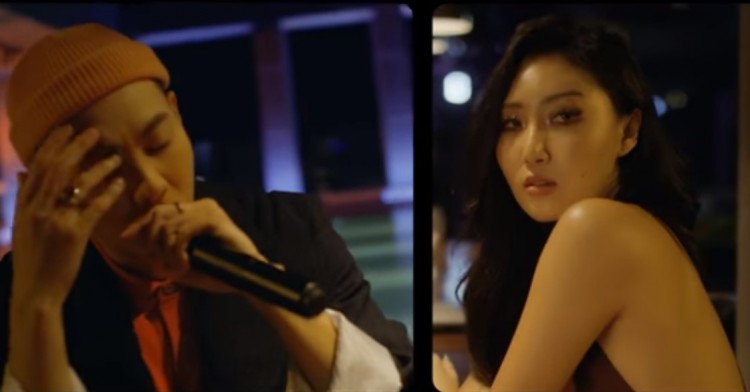 Things continue to get steamier for LOCO and Hwasa. Fans couldn't get enough of the collaboration between the rapper and the MAMAMOO idol on Hyena on the Keyboard because of the undeniable chemistry between the musicians and the sexy song they worked on. Not surprisingly, "Don't Give It To Me" has turned into a major success so LOCO and Hwasa have reunited to film a steamy new video for the track.
Fans have been wondering if LOCO and Hwasa have started dating after meeting for their collaboration on Hyena on the Keyboard. After all, the "Post It" rapper made it clear that he was interested in the MAMAMOO member, who flirted back with the musician. LOCO even went as far as denying that he has been seeing a different woman for the past three years, somehow confirming that he is free to date Hwasa. But does the new "Don't Give It To Me" music video confirm that the two are officially a couple?
People have been hoping that LOCO and Hwasa will work on a new project again since the rapper has some free time because It's Dangerous Beyond the Blankets will be on hiatus starting next week. In addition to that, the MAMAMOO idol has some time off while her fellow member Moonbyul promotes her solo album. Luckily, it looks like fans finally got the reunion they need. LOCO and Hwasa have just unleashed a new music video for "Don't Give It To Me," and it is the sexiest one yet.
The new music video for "Don't Give It To Me" was released by Above Live and follows the usual concept where LOCO and Hwasa are sitting in a bar and singing. However, the new MV takes it even further as the two musicians gaze at each other sexily and Hwasa even smiles invitingly at LOCO near the end of the video. Needless to say, the video immediately fueled rumors that Hwasa is LOCO's girlfriend.
It is still unclear whether an official music video will be released for "Don't Give It To Me." In the meantime, fans can keep watching the chemistry between LOCO and Hwasa in the MV while hoping that the two will continue making beautiful music together.
© 2019 Korea Portal, All rights reserved. Do not reproduce without permission.