LOCO X Hwasa Dating: MAMAMOO Idol Might Be Eager For Reunion With 'Don't Give It To Me' Collaborator Following 'It's Dangerous Beyond The Blankets 2' Hiatus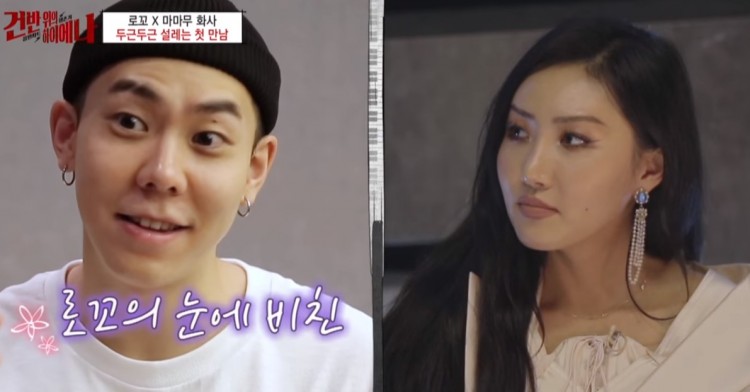 Finding a great partner you can work with is not an easy task especially when you are working in the entertainment industry. Luckily, MAMAMOO's Hwasa has found an excellent collaborator in rapper LOCO when they made a song together for Hyena on the Keyboard. But what are the chances that the sexy idol and the "Post It" musician will be reunited on a new project?
There are speculations that Hwasa is hoping to spend more time with Kwon Hyook Wu now that his TV series It's Dangerous Beyond the Blankets 2 will be taking a long hiatus this month.
People have been talking about LOCO and Hwasa since the two first met for Hyena on the Keyboard last May. The rapper openly flirted with the MAMAMOO member, who reciprocated by giving him a sexy dance when they performed together at LOCO's first solo concert.
So is there any chance that the musicians have been seeing each other after they recorded "Don't Give It To Me" for the show? There is a possibility that Hwasa is hoping to reunite with LOCO on more songs now that the It's Dangerous Beyond the Blankets 2 star has some time off from the show.
It was recently reported that It's Dangerous Beyond the Blankets 2 would be put on hold in favor of the upcoming 2018 FIFA World Cup. According to AllKPop, the international sporting event will be broadcast during the reality show's timeslot on MBC from June 14 to July 15. Unfortunately, this would mean fans will need to wait until next month to see more of the celebrities' recent Vietnam vacation or if LOCO will return to show off more of his amazing gadgets. But could this mean the rapper will have more time to spend with MAMAMOO's Hwasa while the series is on hiatus?
It looks like the other members of MAMAMOO are currently taking a break while Moon Byul promoted her solo album Selfish and her collaboration with Red Velvet's Seulgi. Not surprisingly, fans have been hoping that Hwasa will use the time to work with LOCO on a second song similar to their sexy track "Don't Give It To Me." Although there are no official updates yet on what Hwasa is up to, people are praying that it would be a new song with the rapper and a possible confirmation of their relationship.
© 2019 Korea Portal, All rights reserved. Do not reproduce without permission.