BTS Members V, Jimin, Jungkook, Suga, Jin, RM, J-Hope Unlike Other Celebrities; 'Fake Love' Crooners Wow Reporters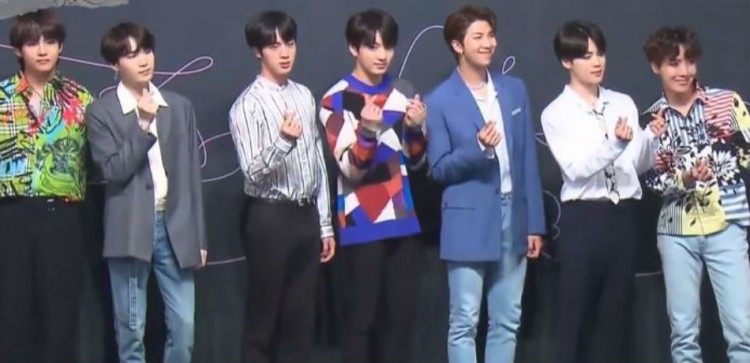 After almost five years in the music and entertainment industry, BTS has garnered various accolades and awards both in South Korea and the U.S. that impressed many critics. Recently, the special attention that band members V, Jimin, Jungkook, Suga, Jin, RM and J-Hope displayed to reporters attending the K-Pop group's press conferences was revealed.
BTS has already hosted numerous press events to promote new albums, concerts, or activities. However, reporter Kim Ji Ha revealed during the recent broadcast of CeluvTV's Issue Clock that the K-pop group's press conferences are slightly different than usual events. Despite being superstars, band members V, Jimin, Jungkook, Suga, Jin, RM and J-Hope still have down-to-earth attitudes, according to the reporter.
Unlike other celebrities who would immediately go backstage after the end of a press conference, BTS band members would still linger at the venue to mingle with reporters. Reporter Kim Ji Ha shared how the seven-member K-pop group would go down from the stage and approach members of the press to share their greetings and personally thank them for coming to the event.
Apart from approaching members of the press, Kim Ji Ha also revealed that V, Jimin, Jungkook, Suga, Jin, RM and J-Hope even helped to collect empty water bottles from the stage. Describing the said actions as that of rookie celebrities, the reporter praised BTS band members for retaining a humble attitude.
Kim Ji Ha also commented on the K-pop group's professionalism when holding press conferences. Given how V, Jimin, Jungkook, Suga, Jin, RM and J-Hope would note down questions asked by reporters, the action showed the Fake Love crooners' will to remain focus during the press event.
Meanwhile, following the release of the K-pop idol group's third album Love Yourself: Tear, the said album nabbed a spot on Billboard's 50 Best Albums of 2018 so far. Billboard critics even described it as one of BTS's "most thematically cohesive yet sonically varied albums."
The recent milestone also marked another achievement for BTS as the only K-pop album that made it to the said Billboard list for the year 2018. Apart from the seven-member group, other musical artists that also nabbed a spot on the chart includes Justin Timberlake, Camilla Cabello, Cardi B, Shawn Mendes, The Weeknd, Charlie Puth, and more. BTS released Love Yourself: Tear and the album's title track Fake Love on May 18.
© 2023 Korea Portal, All rights reserved. Do not reproduce without permission.