BTS Updates: V, Jungkook, Jimin, Suga, Jin, RM, J-Hope Unveils Vacation Style, Reveals Careers If They Did Not Become K-pop Idols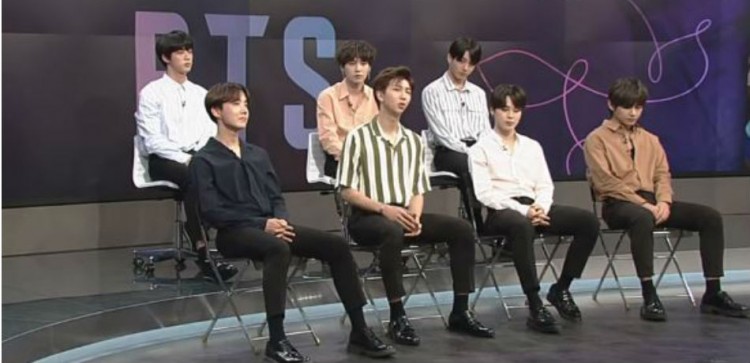 The multi-awarded boyband BTS recently graced the SBS studios for an exclusive interview with TV news anchor Kim Yong Tae. Aired on June 3, Sunday, the seven-member group shared exciting information about their vacation styles including what they would have become if they did not pursue a K-pop idol career.
BTS joined the ranks of famous South Korean celebrities and political figures who appeared on the SBS "8 O' Clock" News program. V, Jungkook, Jimin, Suga, Jin, RM and J-Hope even received a rousing round of applause after news anchor Kim Yong Tae formally introduced the group as his guest for the evening.
Apart from talking about the group's appearance at the 2018 Billboard Music Awards, the difficult choreography for "Fake Love" and high-pitched notes for specific songs, BTS members also revealed some details of the group's annual vacation trips. Jungkook clarified that unlike other vacation tours where the itinerary would be filled with visiting fun attractions, the band's leisure trips typically involves enjoying small tasks such as buying food, eating together and playing simple games. The K-pop idol even described the band's vacation trips as a chance for all seven members to further strengthen their unity and bond with each other.
When asked to reveal the group's career of choice had they not become K-pop stars, BTS band members Jimin, V, J-Hope and Suga each gave interesting answers. V admitted that he would still like to be in the music scene but as a saxophonist instead of a singer. Jimin shared that his dream career during his middle school days was to be a policeman, while J-Hope stated that he wanted to be a professional tennis player. Meanwhile, Suga commented that he would have been a producer or a news anchor who would interview famous people.
The seven-member boyband's recent guest appearance at the SBS "8 O' Clock" News is part of the group's promotional activities for 2018. Following the successful release of the K-pop band's latest album "Love Yourself: Tear," BTS is also set to embark on a world tour in the coming months.
Recently, the band's entertainment agency, Big Hit Entertainment, announced that tickets for the group's upcoming "BTS Love Yourself" world tour were already sold out. With a total of 21 shows that will be held across North America and Europe, the K-pop group sold out 280,000 seats for the said concert performances.
BTS released their third studio album "Love Yourself: Tear" on May 18. The K-pop band will jumpstart their 2018 world tour with a concert in Seoul in late August before traveling to the US, Canada, England, Netherlands, Germany, and France.
© 2023 Korea Portal, All rights reserved. Do not reproduce without permission.