'Outlander' Season 4 Star Caitriona Balfe Reacts To Sam Heughan's Impressive Dance Moves During World Outlander Day Celebration [PHOTO]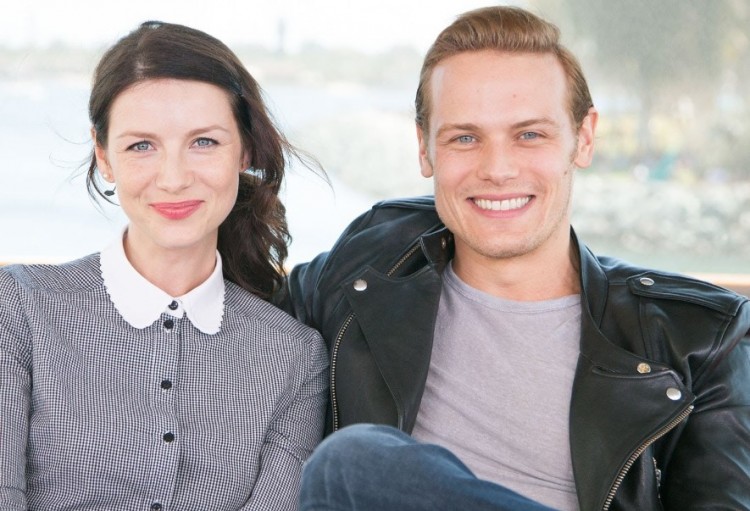 Fans recently celebrated World Outlander Day in honor of the sweeping universe that Diana Gabaldon created over 25 years ago. The cast of Outlander Season 4 even made sure to thank the people who have supported the books and the TV series for several years. Interestingly, the most impressive part of the celebration was a brief glimpse at actor Sam Heughan doing a crazy dance that immediately caught the attention of his co-star Caitriona Balfe. Not surprisingly, the real Claire Fraser had a hilarious reaction to Heughan's impressive dance moves.
People have been looking forward to World Outlander Day in hopes that there would be new updates on Outlander Season 4. Although Starz has yet to announce the Outlander Season 4 air date, fans were delighted when someone found some exciting footage of Sam Heughan showing off his adorable dance moves. Naturally, Caitriona Balfe couldn't pass up the chance to roast the real Jamie Fraser on social media.
Caitriona Balfe has made it a habit to find great photos and videos of Sam Heughan then immediately posting them on her official Twitter account for all the fans to see. On World Outlander Day, one fan shared a gif of Heughan dancing that was taken from a scene from his 2011 film A Princess for Christmas. The scene features the Outlander Season 4 actor having a good time with Supergirl Season 3 actress Katie McGrath.
The gif was shared in response to Caitriona Balfe's post about World Outlander Day. Naturally, the Outlander Season 4 actress immediately tagged Sam Heughan and demanded an explanation of what she is seeing.
#WorldOutlanderDay pic.twitter.com/FBqZn7Sbxm — iza sassenach (@DdCcoqui) June 1, 2018
Sam Heughan was quick to react to Caitriona Balfe's question. The Outlander Season 4 actor revealed to his co-star that the gif was "a lesson in how to MOVE."
Hahahaha. What is this @SamHeughan ?????? https://t.co/j4gwUSUmDs — Caitriona Balfe (@caitrionambalfe) June 1, 2018
A lesson in how to MOVE!! https://t.co/71MU6iO7w9 — Sam Heughan (@SamHeughan) June 1, 2018
It will still be a long wait before Caitriona Balfe, and Sam Heughan return in Outlander Season 4, which is scheduled to air on Starz in November. In the meantime, fans can enjoy a full clip of Heughan's crazy dancing in A Princess for Christmas below.
© 2019 Korea Portal, All rights reserved. Do not reproduce without permission.