Sam Heughan 2018: Caitriona Balfe's 'Outlander' Season 4 Co-Star Drops Major Spoilers, Possible Air Date For Starz Series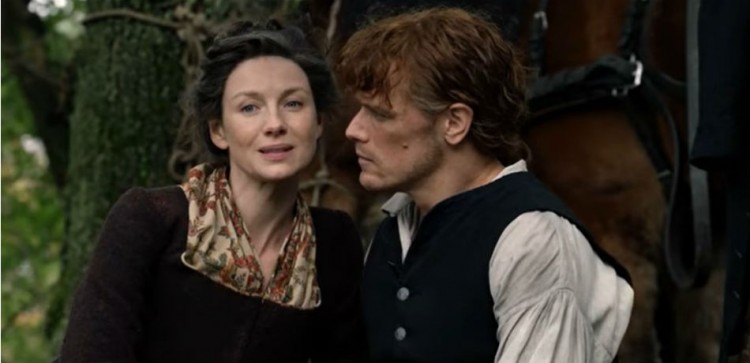 Big things are happening in Outlander Season 4 and Sam Heughan is undoubtedly excited for his character's future in the Starz series. After all, Jamie and Claire Fraser were last seen being washed ashore on Georgia in the previous season finale. But what exactly can fans look forward to in the upcoming season? Caitriona Balfe's longtime co-star has just dished on what will happen to the couple now that they have reached America.
There is little doubt that Sam Heughan is a huge fan of Diana Gabaldon's book series that inspired his TV show. In fact, the star of The Spy Who Dumped Me is already aware of how the novels will end. Luckily, Heughan has shared some of Outlander Season 4 secrets he knows with fans who are eager to see him reunite with Caitriona Balfe's feisty heroine.
According to Express, Sam Heughan was recently a guest on UK show This Morning, where he told hosts, Phillip Schofield and Holly Willoughby, what fans can expect in Outlander Season 4. Caitriona Balfe's co-star stated that the upcoming season is "about America in its infancy" and that Jamie and Claire Fraser will be "establishing a home in America."
It certainly sounds like things will be going smoothly for the always separated couple but Sam Heughan revealed that their stay in Georgia will not be as dreamy as it seems. "The course of true love never does run smoothly, it's all fine for a while and then thrown into jeopardy," Heughan said. Fans were immediately worried that Jamie and Claire Fraser will end up being torn apart yet again in Outlander Season 4. Nevertheless, Heughan persisted that he is already looking forward to his reunion with Caitriona Balfe really soon. "We are shooting the finale when I go back next week, we'll be done in June," he revealed.
There is little doubt that Sam Heughan and Caitriona Balfe will be having plenty of fun once they are reunited for Outlander Season 4. After all, the co-stars have an undeniable bond after several years of working together. Balfe even got Heughan trending on Twitter when she kickstarted a flurry of hilarious images of the actor being posted on social media.
There is no word yet on the Outlander Season 4 air date but the series is expected to return on Starz by September or October. In the meantime, Sam Heughan and Caitriona Balfe are expected to celebrate together in the upcoming World Outlander Day on June 1.
© 2023 Korea Portal, All rights reserved. Do not reproduce without permission.