'Running Man' Star Lee Kwang Soo Hilariously Tries To Evade Kim Jong Kook's 'Thor' Revenge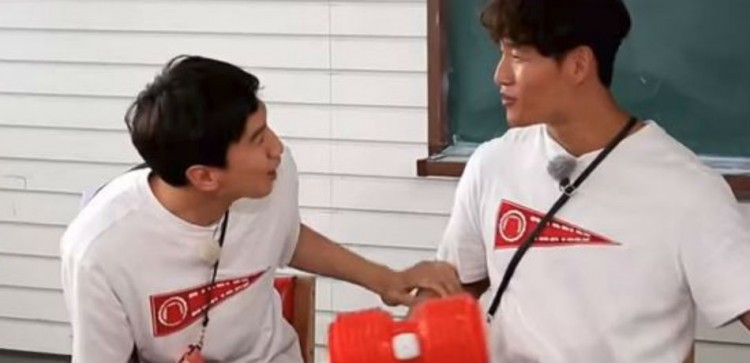 Lee Kwang Soo endured another painful yet hilarious game in the latest episode of "Running Man." Despite trying to run away from Kim Jong Kook to avoid being hit by a large toy hammer, the "Entourage" star failed to evade the singer's "Thor"-like revenge.
"Running Man" episode 535 featured a game where members had to guess the titles of three South Korean movies by listening to short audio clips taken from the said films. Cast members who get the right answer win points while losers get hit by a large toy hammer on the head by the person sitting on their right.
Having betrayed Kim Jong Kook in a previous game, Lee Kwang Soo tried to avoid being seated beside the "Turbo" alum. However, Yoo Jae Suk noticed the actor's efforts and blatantly pointed it out to other "Running Man" cast members.
To identify who can choose their seats first, the cast members of the SBS variety show played several rounds of rock-paper-scissors with Jeon So Min winning first place while Lee Kwang Soo and Kim Jong Kook landing the second and third spots, respectively.
Despite the "Entourage" star's efforts to find a spot away from the balladeer, the singer always sat beside the actor. The "Running Man" cast member even tried to redo the seating arrangements with the loser of the rock-paper-scissors game choosing first, however, Lee Kwang Soo still ended up with Kim Jong Kook as his seatmate, according to AllKpop.
Kim Jong Kook's action even made Lee Kwang Soo vent out his frustrations by hitting the singer on the head with the toy hammer. Dubbed as the "Sparta-Kook" of "Running Man," the balladeer can only laugh at the situation. Ultimately, the "Turbo" alum got his revenge by hitting the "Entourage" actor very hard on the head when the actor gave incorrect answers. Jeon So Min even commented on how Kim Jong Kook resembled the Marvel hero "Thor" when he wielded the toy hammer during the game's penalty round.
Meanwhile, Lee Kwang Soo renewed his contract with King Kong by Starship Entertainment, according to Soompi. The "It's Okay, It's Love" star has been with the same agency since his rookie days in the South Korean entertainment industry. Dubbed as "Asia's Prince" given the actor's popularity in China and other Asian countries, the "Running Man" cast member was recently seen in the tvN drama police drama "Live" and will soon grace the wide screens in the upcoming film "Detective: Returns."
See more of Lee Kwang Soo's funny antics in "Running Man" which airs every Sunday on SBS.
© 2023 Korea Portal, All rights reserved. Do not reproduce without permission.