BTS 2018 News & Update: V, RM, Jin, Suga, J-Hope, Jimin, Jungkook Credit Army For BBMAs Victory, 'Love Yourself: Tear' Success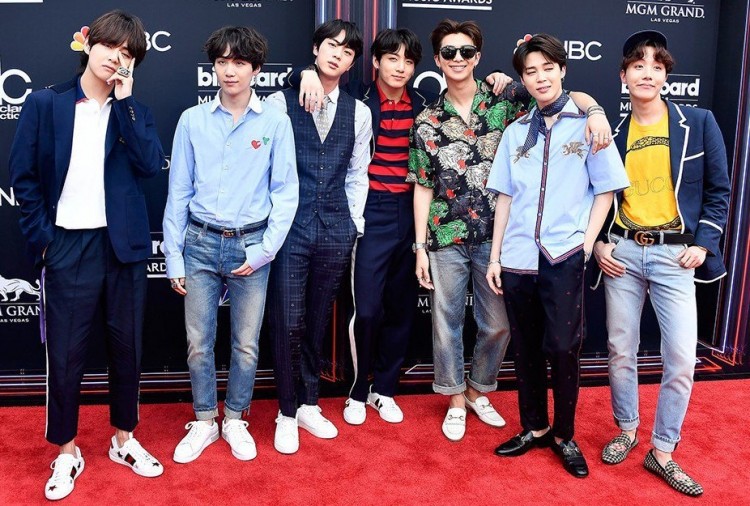 BTS certainly has been busy promoting their new album Love Yourself: Tear and is set to go on tour for several dates in support of their comeback LP. Although there is little doubt that V, RM, Jin, J-Hope, Suga, Jimin, and Jungkook are enjoying their success following an impressive performance at the 2018 Billboard Music Awards, the Bangtan Boys are very aware of the people responsible for their victory at the event. The boy group has just credited the BTS Army for pushing them forward and helping them achieve their dreams,
There is little doubt that BTS is one of the most talented acts in the industry today. However, it is also obvious that their fans are the ones who have propelled the Bangtan Boys into fame and success. Luckily, V, RM, Suga, Jin, Jimin, Jungkook, and J-Hope have not forgotten about the BTS Army. The idols recently went out of their way to explain why they decided to leave the 2018 Billboard Music Awards as soon as the event is over instead of hanging out with their fellow celebrities at the after party.
BTS recently made an appearance on SBS's 8 O'Clock News where J-Hope revealed that the Bangtan Boys wanted to celebrate their win with the BTS Army instead of attending the BBMAs after party. According to AllKPop, the idols chose to have their own after party with their fans through V-Live.
The boy group made it clear that the BTS Army is truly important to them. Suga admitted that the idols enjoy interacting with their fans on social media. "It's a blessing for us to have a job that can give people courage and strengths on such issues," Min Yoongi stated after saying that they prefer to "share stories of present times and of people who are living in current times through music."
The Bangtan Boys also had a touching message for their fans, "We are here thanks to Army," V declared as RM promised that BTS will always take care of their fans and urged their supports to trust the boy group.
BTS is scheduled to tour the US and Europe later this year after their expected performance at the 2018 FIFA World Cup in Russia. Big Hit Entertainment has already confirmed that all 21 dates of the boy group's world tour have already been sold out, thanks to the BTS Army.
© 2023 Korea Portal, All rights reserved. Do not reproduce without permission.