Ellen DeGeneres, Portia de Rossi Relationship 2018: Is The Talk Show Host Controlling 'Scandal' Actress' Career? [WATCH]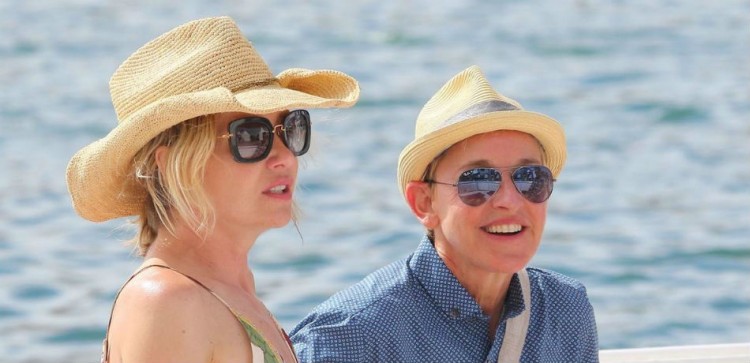 Ellen DeGeneres and Portia de Rossi have been married for a decade, but multiple reports keep claiming that their relationship is not going well anymore. In fact, a recent scoop shared that the well-loved talk show host is allegedly controlling the Scandal actress' career, which is why the latter is now leaving Hollywood for good.
Earlier this month, the 45-year-old model, philanthropist, and actress revealed on The Ellen DeGeneres Show that she would be retiring from acting. Although Portia de Rossi clearly explained that she's quitting Tinseltown to launch the art curation and publishing company, General Public, an OK! magazine source claimed that Ellen DeGeneres was the reason behind her shocking decision.
"Ellen guilted Portia into giving up her career. They've been having issues for a while, and Ellen told her that, as the breadwinner, she needs a more supportive wife, so Portia finally caved," the insider said. "It just goes to show how their life revolves around Ellen. But only time will tell if this Band-Aid works for them."
What makes this claim so hard to believe is the fact that Portia de Rossi will still be working despite her decision to quit acting. So if Ellen DeGeneres wanted her wife by her side 24/7, then she would not have allowed her to be a businesswoman, which is a profession that requires an incredible amount of time as well.
Also, Portia de Rossi herself explained on her wife's talk show the deeper meaning behind her idea to leave the entertainment world. The Scandal actress said that "I was approaching 45… and I just kind of was wondering, 'Is there something that I could tackle now that I've never done before that would be really challenging and different?'" She then revealed that she made this decision 18 months before sharing it on The Ellen DeGeneres Show.
Although she already said that she's putting her acting career behind her, Portia de Rossi appears on the new season of Arrested Development. The actress and Ellen DeGeneres have never addressed any rumors about the alleged troubles in their marriage.

© 2019 Korea Portal, All rights reserved. Do not reproduce without permission.