SHINee News: K-Pop Group Makes Huge Revelations About Mental Health Post-Jonghyun's Death; Idols Admit They Haven't Cope Yet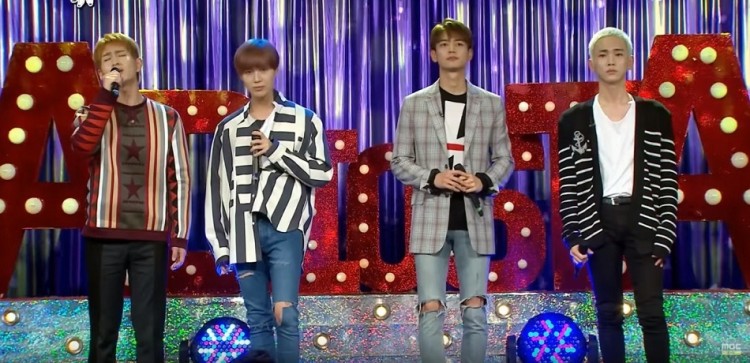 For the first time after Jonghyun's death in December, the four members of SHINee opened up about what they have been through after losing someone they love. It was a very emotional interview for the K-pop idols as they made some huge revelations.
In an interview with MBC's Radio Star, SHINee members Onew, Key, Minho, and Taemin shed tears as they opened up about losing their bandmate and friend Jonghyun. When MC Yoon Jong Shin asked the group if there is any truth about the rumors that SHINee is hesitant about appearing in the show, Minho admitted that they are worried about doing any shows.
Minho confessed that they had doubts at first, whether it was a right decision to go on promotions or launch an album while they are still grieving. But after they talked about their future, he said they were able to control their emotions even for a little bit.
"There's a reason why we decided to hold the concert in Japan and appear on Radio Star. We couldn't see that as a cause of our collapse, and although the expression 'overcoming' isn't right either, we wanted to acknowledge it and in order for us to promote, we thought that it should be something we address first instead of someone else talking about it," Minho said.
Key and Onew, on the other hand, admitted that they underwent counseling and post-traumatic stress disorder treatment. Onew said he had to go on the healing process because he can't cry even when he is despondent. When Onew started to shed tears, Radio Star hosts told him that he didn't need to talk about anything that will make him sad.
Key also confessed that comments hurt them – that they are using the tragic death of Jonghyun for marketing purposes. Key recalled the time when they had their concert in Japan earlier this year.
"We stood on stage for hyung [Jonghyun] and the fans, and to send Jonghyun to a better place together with the fans. But I had a hard time after reading comments stating that we are using it for marketing. How could they leave such comments? It's not that we're totally okay. It has just healed a little," he said.
Minho revealed that they would never be the same as before but said that it would be a big help for them if people would still think of them as a five-member group. SHINee also appealed to the public to be kind to them and stop asking them how they are doing.
"We are not totally okay but we are trying hard to promote so please look at us kindly," Minho said.
Meanwhile, SHINee fans applauded the boys' courage in appearing in Radio Star. They also expressed their admiration for the boys' effort of addressing the mental health issue. In a thread on Reddit, some fans said SHINee's appearance in the show also gave their followers some sort of assurance that they were taking steps to take care of themselves.
SHINee recently celebrated their 10th anniversary with the release of their comeback album The Story of Light. The first part of the album, titled The Story of Light Ep. 1 and its title track "Good Evening" were dropped on May 28.
© 2023 Korea Portal, All rights reserved. Do not reproduce without permission.