'Vikings' Season 5 Episode 11 Spoilers: Lagertha Might Reconsider Harald Finehair Proposal To Save Herself From Ivar The Boneless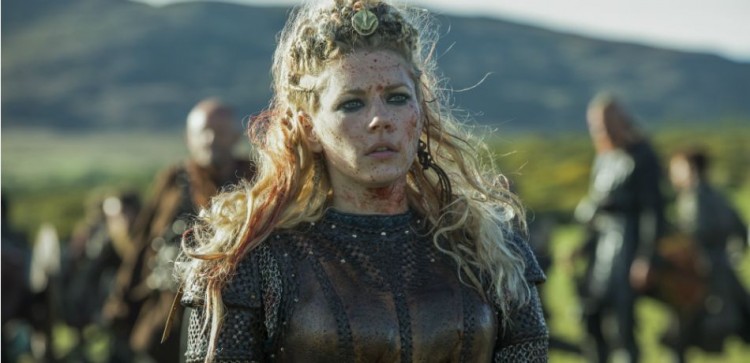 The wait for Vikings Season 5B continues and it looks like there is not much else to do but ponder on what will happen when the series returns to History Channel. After all, the mid-season finale seemed to suggest that Lagertha's defeat would leave her broken and ready for death. But is it possible that the Queen of Kattegat still has another trick up her sleeve? Lagertha might find a way to prevent Ivar the Boneless from killing her in Vikings Season 5 Episode 11.
But what exactly could Lagertha do to stop Ragnar Lothbrok's crippled son from taking revenge? Viewers are already aware that Ivar the Boneless will let nothing come between him and his desire to avenge his mother's murder. Nevertheless, it looks like the Queen of Kattegat could still save herself simply by accepting Harald Finehair's proposal in Vikings Season 5 Episode 11.
In the premiere episode of the fifth season, Harald Finehair returned to Kattegat expecting to find Egil on the throne. Unfortunately, he discovered that Lagertha has defeated Egil and is now waiting for Harald to confess to treason. In order to save himself, Harald proposed an alliance through marriage but the Queen of Kattegat turned him down. Harald later gives Astrid the same proposal after he escapes and takes Lagertha's lover for his prisoner. Will Vikings Season 5 Episode 11 open with Harald offering Lagertha the same proposal now that Astrid is dead?
A marriage to Harald Finehair would definitely save Lagertha from Ivar's axe but it would also mean that she will need to share her kingdom with another ruler. Fans argue that this is not Lagertha's way and Katheryn Winnick's character is most likely to face death than give up half of Kattegat in Vikings Season 5 Episode 11.
So what are the chances that Lagertha will decide to marry Harald Finehair? It is still unclear if the Queen of Kattegat will enjoy being with Harald in Vikings Season 5B. Nevertheless, Katheryn Winnick certainly enjoys the company of Peter Franzen and Halfdan the Black actor Jasper Pääkkönen. The Call of Duty: WWII voice actress has recently shared a picture on her Instagram account to celebrate her reunion with her Vikings co-stars at Cannes.
Will Lagertha finally agree to marry Harald Finehair to avoid being killed by Ivar the Boneless? Find out when Vikings Season 5 Episode 11 finally airs on History later this year.
© 2019 Korea Portal, All rights reserved. Do not reproduce without permission.