Red Velvet Couldn't Resist WINNER's Song Min Ho & Pulled Over To See Him, Not Minding The SM & YG Entertainment Fanwars [VIDEO]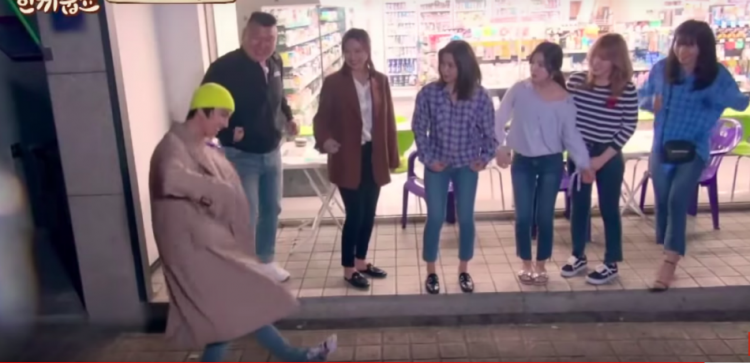 Fanwars are still happening in the K-pop industry. However, it appears that the idols themselves are not only trying to put these ridiculous battles aside, but they actually genuinely support one another. For instance, when SM Entertainment's Red Velvet saw YG Entertainment's Song Min Ho of WINNER, they couldn't resist but to fangirl over him even if he's from a different music label.
The three biggest Entertainment Companies in K-pop, also known as the Big Three, are YG, SM, and JYP. Since Red Velvet and WINNER's Song Min Ho belong to these two well-known companies that are aiming for the top spot, their recent encounter made all these fanwars disappear even just for a short time.
WINNER's Song Min Ho was a guest star of JTBC's Give Me a Meal on May 16. The 25-year-old South Korean rapper, songwriter, and producer was paired with Kang Ho Dong for a mission. Unfortunately, the duo failed the task, and the other team, Kim Jin Woo, and Lee Kyung Kyu succeeded in getting a meal.
Song Min Ho and Kang Ho Dong then took some time off to accept their defeat. And while the WINNER singer and the 47-year-old South Korean television host and comedian were trying to digest their loss, they ran into Red Velvet's Irene, Seulgi, Wendy, Joy, and Yeri during filming.
As it turns out, their encounter was not that coincidental at all. Red Velvet shared that they saw Song Min Ho and Kang Ho Dong filming and they decided to pull their van over to greet them. The girls automatically ran and hugged the comedian, while they were clearly shy towards Song Min Ho. The WINNER singer appeared to be very bashful with the situation as well.
Despite feeling awkward, Irene, Seulgi, Wendy, Joy, and Yeri still smiled, bowed, and took the opportunity to congratulate Song Min Ho on his group's comeback. Red Velvet then tried to learn the key moves to WINNER's "Everyday," and that definitely helped make the mood more comfortable for all of them.
© 2023 Korea Portal, All rights reserved. Do not reproduce without permission.