'Outlander' Season 4 Star Sam Heughan & Caitriona Balfe Expected To Drop Spoilers on World Outlander Day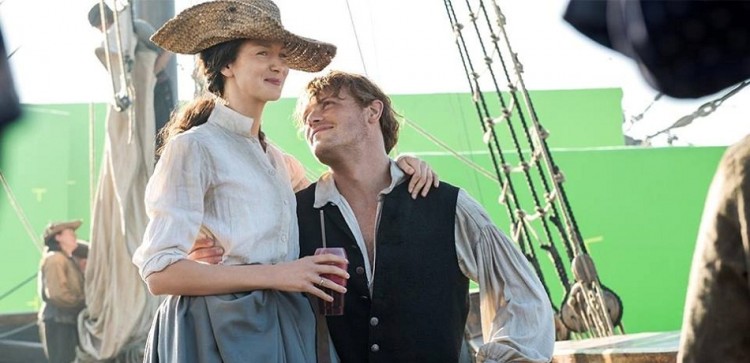 World Outlander Day is a special event for Outlander fans, more so when the TV adaptation of the series premiered back in 2014. Every year on June 1 the Starz TV network, cast members, or author Diana Gabaldon offer something for fans. This year it is expected that more tidbits about the upcoming Outlander Season 4 will be revealed.
On June 1, 1991, author Diana Gabaldon released the first novel of the best-selling series. Since then, this day has been named World Outlander Day to celebrate the Outlander books and characters. This year the cast members of the Outlander TV series are expected to offer some spoilers on what to expect in the upcoming fourth season.
Last year, lead stars Sam Heughan (Jaime Fraser) and Caitriona Balfe (Claire Fraser) revealed their favorite scenes in Season 3. In the clip shared on Twitter, the on-screen couple offered their list on what to look forward to in Outlander Season 3. Balfe said fans should watch out for the "soup" scene while Heughan mentioned the "print shop." The print shop scene in Season 3 was one of the most iconic moments between Jamie and Claire as they were finally reunited after 20 years of being apart.
On World Outlander Day in 2016, Starz announced the Outlander renewal for Season 3 and 4. Heughan also shared a hilarious picture of himself from Season 2 filming.
This year, Outlander bosses are also expected to announce the future of the series. They could announce a renewal for two more seasons. Earlier this year, Starz CEO Chris Albrecht already teased that the 18th century-themed drama is more likely to be renewed for two more seasons.
"I wouldn't worry too much about that. There are ten books, and we are having very productive conversations about the future of the show," Albrecht said during the Television Critics Association Press Tour in January.
The show could also release a teaser for the upcoming fourth installment. Season 4 will be based on Gabaldon's "Drums of Autumn" book. It will feature the journey of Jaime and Claire as they settle in the American colonies. This season, the couple will meet a new villain. Jaime is also set to meet his daughter Brianna finally.
Starz has yet to announce the release date of Outlander Season 4. It is expected to premiere in September 2018. The Outlander Season 4 cast and crew are currently filming in several locations across Europe.
© 2023 Korea Portal, All rights reserved. Do not reproduce without permission.