Ong Seong Woo Depressed? Wanna One Idol Draws Concern From Fans Over Surprising Confession To Lai Guan Lin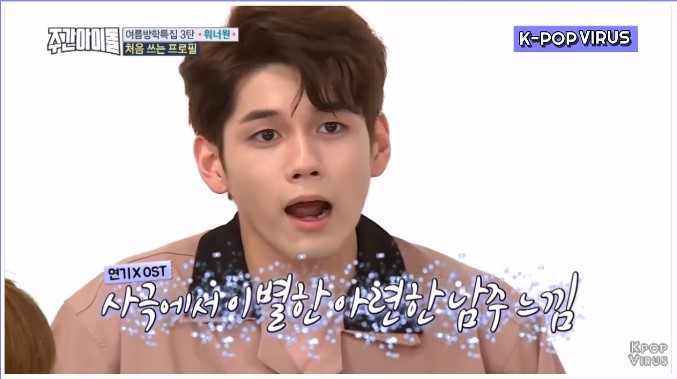 The members of Wanna One are certainly known for their fun, easygoing nature that fans sometimes forget that Kang Daniel, Park Ji-hoon, Lee Dae-hwi, Kim Jae-hwan, Ong Seong-wu, Park Woo-jin, Lai Kuan-lin, Yoon Ji-sung, Hwang Min-hyun, Bae Jin-young, and Ha Sung-woon all have to deal with the pressures of being a celebrity. With that in mind, people were immediately concerned when Seongwoo confessed to Guanlin that he was recently moved to tears while listening to songs on a road trip.
There is little doubt that Ong Seong-wu is one of the funnier members of Wanna One. The former model and his roommate Kang Daniel are known for cracking jokes and making their fellow idols laugh whenever they can. But is it possible that Seongwoo is using his sense of humor to hide his depression? Fans believe the truth was revealed in a recent episode of Wanna One Go: X-CON.
The May 14 episode of Wanna One Go: X-CON featured an unexpected pair-up between Ong Seong-wu and Lai Kuan-lin as they are sent off on a date, as per AllKPop. Although the two initially joked around, their conversations eventually turned serious. At one point, Guanlin asked Seongwoo about the last time he had cried and got a surprising answer.
Ong Seong-wu revealed that he recently had to go to Incheon and ended up listening to Roy Kim's songs "Healing is Needed" and "Home" during the drive. "While listening to the songs, I wondered if I have someone that will warmly tell me to 'come here' when I'm having a hard time," the Wanna One member said before admitting that, "I got emotional and cried."
The confession immediately had fans concerned about Ong Seong-wu's emotional and mental state, wondering if the Wanna One idol is suffering from depression. Some even pointed out that Seongwoo might be feeling lonely despite being surrounded by his fellow members. Other fans believe that the hectic schedule and lack of rest might be taking a toll of Seongwoo.
It is still unclear whether Ong Seong-wu is genuinely depressed, but fans are hoping he gets all the love and support he needs to get by. Nevertheless, the Wanna One member is set for a busy schedule as he has just been cast along with Ha Sung Woon in SBS' Laws of the Jungle set in Sabah.
© 2019 Korea Portal, All rights reserved. Do not reproduce without permission.