BTS Drops 'Love Yourself: Tear" Tracklist, Reveals Another Collaboration With Steve Aoki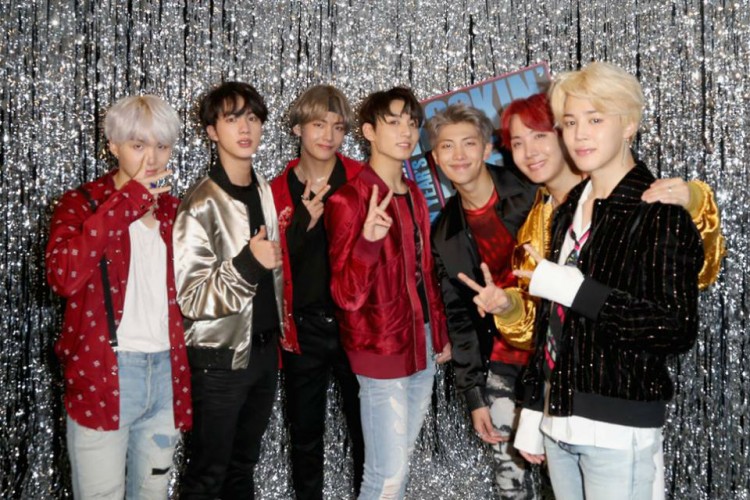 BTS dropped another teaser that once again put the much-awaited new album, Love Yourself: Tear, into the limelight. On Sunday, May 13, BigHit Entertainment revealed the tracklist of V, Suga, Jin, Jungkook, RM, Jimin, and J-Hope's full-LP on Twitter.
Love Yourself: Tear will be composed of 11 new songs that include another collaboration with the American electro house musician, Steve Aoki. The BTS album will start with "Intro: Singularity," which V teased in a music video. Other songs in the LP are "Fake Love," "전하지 못한 진심," "134340," "낙원," "Love Maze," "Magic Shop," "Airplane Pt. 2," "Anpanman," "So What," and the finale, "Outro: Tear."
Just last week, BTS revealed four different versions of Love Yourself: Tear's concept images with corresponding letters. On May 9, the group first dropped the O and R versions of their photos that showed V, Suga, Jin, Jungkook, RM, Jimin, and J-Hope wearing denim and leather outfits.
It was then followed by the concept images' Y and U versions on May 11. Here, V, Suga, Jin, Jungkook, RM, Jimin, and J-Hope were seen in a softer setting as they were donning a more casual set of clothing and a white pair of pants and shirts. By putting all the correspondent letters of their photos' theme, it would be spelled out as "YOUR." As Korea Portal previously reported, it was a follow up to the word "Love" in their previous album, Love Yourself: Her.
#BTS #방탄소년단 #LOVE_YOURSELF 'Tear' Tracklist pic.twitter.com/F7VPUOjEZb

— BigHit Entertainment (@BigHitEnt) Mayo 13, 2018
Meanwhile, according to Billboard, with Love Yourself: Tear's hype, the pre-order now sold more than 1.44 million copies. This is record-breaking compared to BTS' 2017 LP, Love Yourself: Her, which only sold 1.4 million copies. It looks like V, Suga, Jin, Jungkook, RM, Jimin, and J-Hope will make history as their previous album made a name for itself by being the first K-pop group LP that was included on 2017 Billboard 200's Top 10 that landed on the No. 7 spot.
Love Yourself: Tear is set to be released this coming Friday, May 18. Additionally, BTS will be performing for the first time at the upcoming 2018 Billboard Music Awards on May 20 in Las Vegas. According to reports, they might play their new song, "Fake Love." The group, too, is nominated for the Top Social Artist award for the second time.
© 2023 Korea Portal, All rights reserved. Do not reproduce without permission.