'Outlander' Season 4 Cast New Villain in Claire and Jaime's Life, Character Will Critic Claire's Fashion Style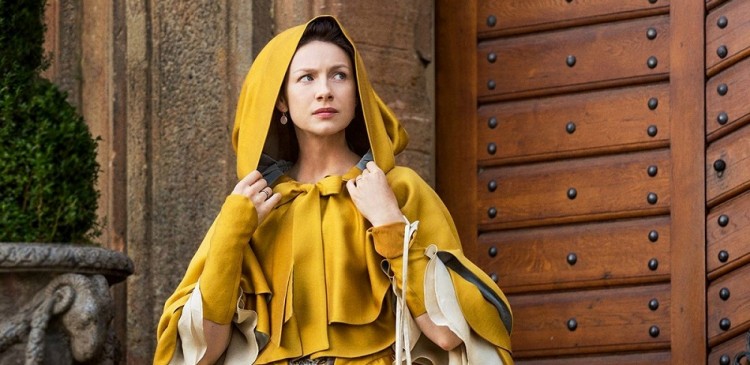 Claire and Jaime have survived the hardships in land and in the sea in Outlander Season 3. Now that they are on American soil, more challenges and new rivals are about the test the couple. New characters are about to join Outlander when it returns later this year.
Actress Ainsley Jordan is joining the cast of the Starz hit drama in Season 4. Jordan will play the role of Judith Wylie, Claire's (Catriona Balfe) new rival. There have been reports that Judith will be a critic of Claire's fashion style. Apparently, time-traveler Claire will adjust her fashion style once again, this time to the 18th century America.
Outlander executives have yet to reveal the exact nature of Jordan's character other than she is the sister of wealthy plantation owner Philip Wylie, also a new character that will be introduced next season. According to the character's description, Philip will develop a crush on Claire and flirts with Jaime's (Sam Heughan) wife on their first meeting in Season 4. That could be another reason for the spat between Claire and Judith.
Meanwhile, Jordan received positive reactions from Outlander fans following the announcement that she would be taking on the role of Judith. She took to Twitter to thank the fans for their warm welcome. Jordan is a veteran in theaters and has also narrated in a radio show called "Kidnapped." She played Snow Queen at the Royal Conservatoire of Scotland. Outlander is her first big break on television.
"Very strange waking up to literally hundreds of nice messages from #Outlander fans! But what a nice surprise! Excited for Judith to dip her toe into the Outlander gang," she wrote on Twitter.
Outlander
Season 4 New Cast Member
Aside from Jordan, Scottish actor Craig McKinley has been tapped to portray the role of Andrew MacNeil, a plantation owner near Cape Fear. The character will lead Jamie and Claire to a sawmill where the couple will witness a horrifying lynching. McKinley previously appeared in King Arthur: Knights of the Round Table movie and short film Blood Loss as well as in TV series Nightfall.
Meanwhile, Downton Abbey actor Edward Speelers also joined the cast as Irish pirate and smuggler Stephen Bonnet. Irish actress Maria Doyle Kennedy has been cast as well as Jamie's Aunt Jocasta. The younger sister of Jamie's late mother and uncles Colum and Dougal Mackenzie has been described as "strong-willed" woman.
Meanwhile, Claire and Jamie's daughter, Brianna (Sophie Skelton), will also come back in the fourth season. Roger Wakefield (Richard Rankin) will also return next season. Like in the book series, the two are expected to play a larger part in the fourth season of the TV adaptation.
Outlander Season 4 Release Date
The filming of Outlander Season 4 is currently underway at several locations including Glasgow, Scotland. It has been confirmed that part of the season will be shot in Scotland. Other scenes that are set in North Carolina will be filmed in locations in Eastern Europe.
Season 4 is based on the fourth book in Diana Gabaldon's Outlander series, "The Drums of Autumn." Outlander Season 4 is expected to hit the screen in September 2018.
© 2023 Korea Portal, All rights reserved. Do not reproduce without permission.