G-Friend News: Girl Group Releases MV For Japanese Version Of 'Me Gustas Tu'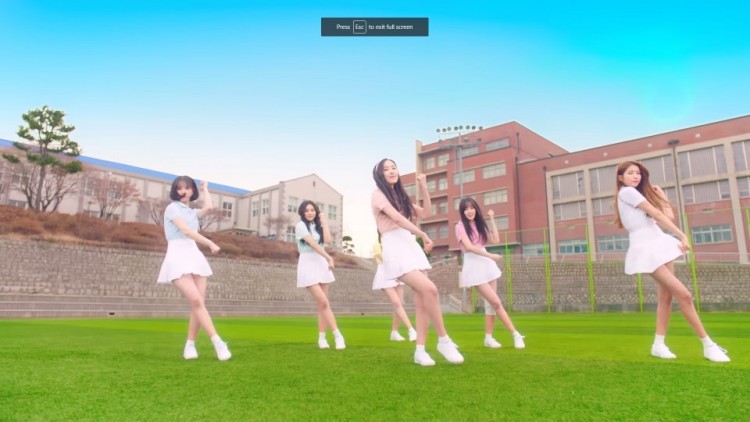 G-Friend is not leaving out their Japanese fans in their performances, as the South Korean girl group released an MV of the Japanese version of one of their old songs. It is worth noting that the Japanese version of the song "Me Gustas Tu" was also just released recently, making the music video a perfect complement.
The said music video had been uploaded to YouTube, and it features the six cute and pretty members of G-Friend, Sowon, Yerin, Eunha, Yuju, SinB, and Umji. The music video has since gained much attention despite being a revival of one of their old songs. The "Me Gustas Tu" Japanese version on YouTube now has 300,000 views and counting, as of this writing.
Since this is the Japanese version of "Me Gustas Tu," G-Friend also made sure to maintain the Japanese atmosphere, and they did so with flying colors complete with Japanese schoolgirl hairstyles and uniforms. There were also lots of scenes where they emulated the Japanese culture such as that in the classroom as well as a student club looking for recruits.
This Japanese version of "Me Gustas Tu" will then be a part of G-Friend's 1st BEST Japanese album which is slated for release on May 23. Rest assured, Japanese fans of G-Friend will find their version of "Me Gustas Tu" intact in the said album.
The popularity of the song revival is quite surprising given the fact that the original Korean version of "Me Gustas Tu" was actually released in July 2015. They also have a couple of readily available music videos for the Korean version of G-Friend's song, one official and one for the choreography version, and both have been very popular since release and equally watched by fans.
Not much has changed in terms of G-Friend's dance moves for the Japanese version of "Me Gustas Tu" though, for those expecting something new, probably since they were already perfect as they were. The Japanese version, however, can be an indication of the overwhelming popularity of G-Friend not only in Korea but other countries as well, so other countries' versions might not be too far-fetched.
© 2023 Korea Portal, All rights reserved. Do not reproduce without permission.