MONSTA X Entering International Scene; Looking Forward To Dome Concert In Japan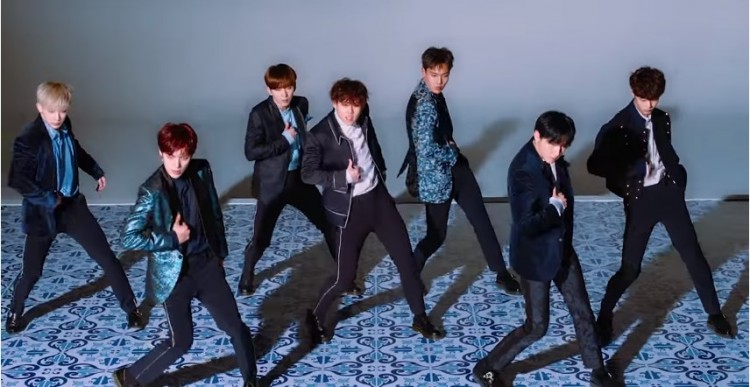 It looks like MONSTA X is now following BTS' steps in making a name internationally. The group composed of Wonho, I.M., Minhyuk, Shownu, Jooheon, Kihyun, and Hyungwon are now taking the international scene by being featured in a British newspaper and airwaves.
Recently, MONSTA X was featured in The Guardian. Their song was also played on California's WiLD 94.9 and Oklahoma's KJ 103FMI. Not only that, according to All Kpop, the group is also hitting the Western media outlet as their new track "Hero" was played on Radio Disney on Saturday, May 5, at 10 p.m. EST.
MONSTA X also revealed a special music video for their new track, "Hero," after the release of their previous hit song's, "Rush," MV last month. Here, Wonho, I.M., Minhyuk, Shownu, Jooheon, Kihyun, and Hyungwon can be seen dancing on the rooftop—showing their impressive dance talents. The clip, too, gave a glimpse of Seoul skyline's scenery. As of now, the group is still promoting their track "Rush" and even performed it recently on Music Bank.
Meanwhile, in an interview with Iligan Sports, via Soompi, MONSTA X talked about their success after being in the business for almost four years. Wonho said it's because of their fans who are continuously working hard to support them. Minhyuk also gave the group itself credit for their performances and improvement in their choreography, skills, and ease on stage.
Talking about MONSTA X's increasing popularity internationally, Shownu said it might be because I.M. is good in English. In fact, Wonho revealed that aside from Korea, they are receiving the best fan response from Japan and the United States.
"A lot of people recognize us [there]," he said. He also added they feel the "greatest reactions" from Japan while walking on the country's streets. With that, Minhyuk is now hoping the group will receive more love from Japan, so they could try to set a dome concert.
Meanwhile, in MONSTA X's upcoming world tour, the group is planning to reveal a lot of different choreographies for their fans. Wonho teased they will continuously show powerful choreography throughout their performance without getting tired.
"There are also unit stages," he said. The group is now talking about their set list, and they might perform at least 25 songs, and five or six songs will have choreography.
© 2023 Korea Portal, All rights reserved. Do not reproduce without permission.