Thor's Adorable Unexpected Bromance With Rocket Raccoon In 'Infinity War' Could Be Key To Defeating Thanos In 'Avengers 4'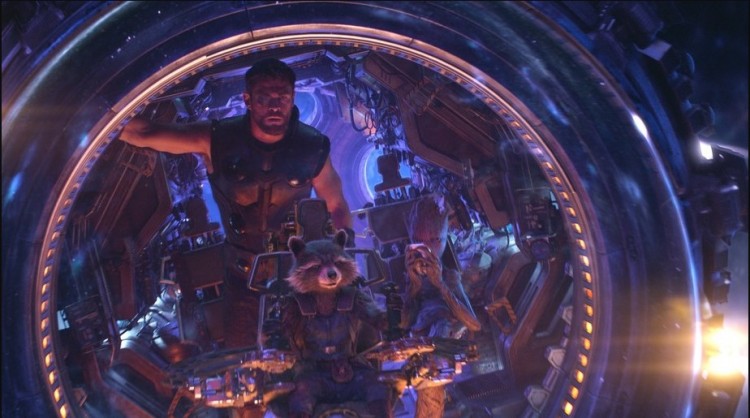 Fans might still be dealing with the shocking conclusion of Avengers: Infinity War, but some are already looking forward to the film's sequel. After all, the superheroes may have been completely defeated by Thanos, but there is still hope for redemption in Avengers 4. The following contains major spoilers from Avengers: Infinity War, so proceed with caution.
In Infinity War, the heroes all set out on their individual missions in an effort to take down Thanos and the Black Order. Thor was rescued by the Guardians of the Galaxy and immediately urged his saviors to help him find a new weapon that could ultimately kill the Mad Titan. Rocket Raccoon and Teen Groot agreed to join the Odinson on his quest, which led them to the great Dwarf King Eitri and resulted in the most entertaining bromance in the Marvel Cinematic Universe film.
Some fans might still be talking about the awesome team-up between Iron Man and Dr. Strange in Avengers: Infinity War, but there is little doubt that Thor and Rocket stole the show with their unexpected rapport. According to Syfy, the pairing is an ideal one for the furry weapons expert who has already lost two previous partners (Groot in Guardians of the Galaxy then Yondu in GOTG Vol. 2) since Thor is virtually immortal. In return, Rocket's snarky humor somehow complements the Odinson's own in a similar way that Loki worked well with Thor.
But could Thor and Rocket end up being two of the most important characters in Avengers 4? There are speculations that the bromance which was featured in Infinity War could continue in the MCU sequel. The Odinson and his "sweet rabbit" could even help their fellow surviving superheroes create new weapons that they could use against Thanos next year.
Thor, Groot and Rocket from Infinity War - more cute things! #InfinityWar #infinitywarspoilers pic.twitter.com/ONcR1KjUHJ — Jenny Slife (@ScrapyardBfs) April 29, 2018
Thor and Rocket are certainly set for big things in Avengers 4 and could be instrumental in finding new allies who can help in the battle against the Mad Titan. There have been reports that the sequel will take place further in the future, which means the surviving Avengers might need to train the new generation of heroes who could fight alongside Captain Marvel.
Will Thor and Rocket continue to work together in MCU? Find out when the still-untitled Avengers 4 premieres on May 3, 2019.
© 2023 Korea Portal, All rights reserved. Do not reproduce without permission.