Lovelyz News & Update: Yein, Baby Soul, Jiae, Jisoo, Mijoo, Kei, Jin, Sujeong Say Chimaek And Spicy Food Help Them Deal With Stress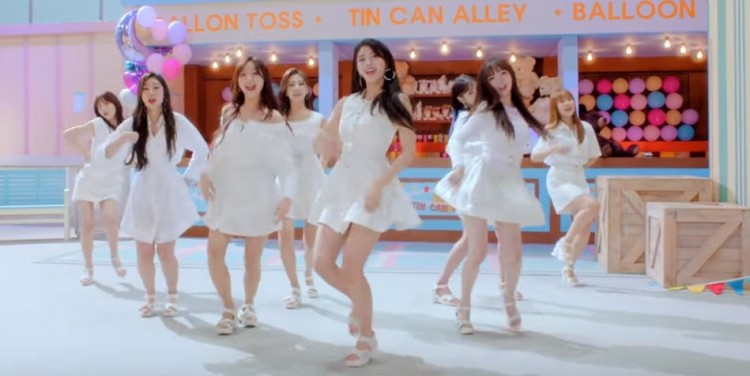 Fans might believe that idols live a glamorous life, but most girl groups also have to deal with the pressure of endlessly promoting their music. The members of Lovelyz have just revealed that they often need to deal with stress, especially now that they have officially returned with a new album and music video.
The pressures of a major comeback have certainly been on Lovelyz with the release of their album Heal. Yein, Baby Soul, Jiae, Jisoo, Mijoo, Kei, Jin, and Sujeong have also been promoting the music video for "That Day," so there is no question that the idols have a hectic schedule. However, it looks like the girl group has been so busy that they can only get around three hours of sleep every night!
The eight members of Lovelyz recently stopped by SBS Power FM's Choi Hwa Jung's Power Time to discuss their album Heal and the single "That Day." According to AllKPop, the idols revealed that their comeback had been somehow stressful, yet they have found yummy ways to deal with all the pressure.
Jin admitted that she gets rid of stress by going out with her friends to relax, but she emphasized that they only drink "lightly." The Lovelyz member also revealed that she enjoys chimaek whenever she can because it is her comfort food.
Jin might be a big fan of chicken and beer for dinner, but Yein prefers spicy food. The Lovelyz member shared that her "stress goes away" when she gets herself a fiery snack.
Food certainly seems like a sensible arsenal when dealing with stress, but the Lovelyz idols also have another thing to deal with. In the same interview, the members confessed that they "don't get much sleep" since they need to "attend recording for music shows" on a regular basis. Although they are getting only three hours of sleep daily, there is little doubt that Sujeong, Baby Soul, Jiae, Jisoo, Mijoo, Kei, Jin, and Yein are working to make sure Heal is a roaring success.
All the stress and lack of sleep may certainly be worth it. "That Day," the first single from the Lovelyz album Heal, is turning out to be a major hit. Hopefully, the idols will finally have more time to rest in the future.
© 2023 Korea Portal, All rights reserved. Do not reproduce without permission.