Park Shin Hye Update: K-Drama Actress Misses Her Phone But Finds Silver Lining For Turning Her Phone Off In 'Little House In The Forest'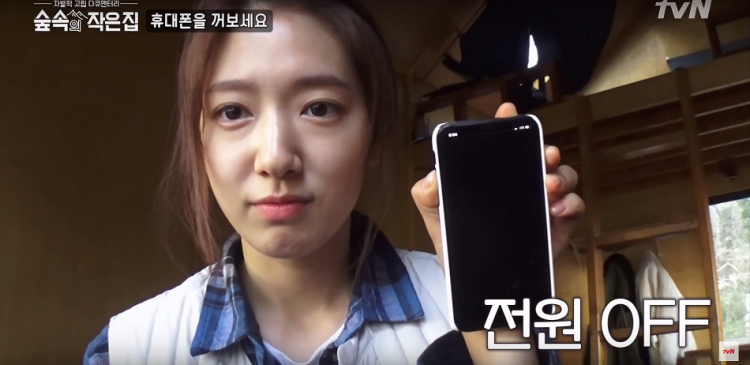 If living in isolation in the middle of a forest in Jeju island is not enough, how much more if you are asked not to use your phone? That was the recent challenge of Korean stars Park Shin Hye and So Ji Sub in Little House In The Forest.
The two have tried several challenges since the Korean show premiered early last month, but it looks like the "no cellphone" experiment is the most challenging one for Park while So is doing just fine without his phone. The challenge did not affect his daily routine at all, but not for Park.
Viewers have seen Park with her phone always by her side. Although the mobile reception in the forest is very poor, Park has been using her phone to browse the internet or to listen to music. Every time she is cooking or eating, she turns on her phone to play music.
When she was instructed not to use her cellphone from 6 p.m. onwards, The Heirs actress felt sad. She frantically called everyone she wants to talk to before she ran out of time. When the clock struck 6 that evening, Park fell into silence.
She was also particularly quiet since the "no phone" challenge started. She cooked and ate her food in silence. However, there is always a silver lining for Park.
"I got to experience a lot of amazing scenery today. I spent a peaceful day without my phone today, but I think I actually enjoyed the weather more," the actress quipped.
Park and So also had two other challenges during the day. First, they were tasked to recreate and eat the most delicious dish that makes them happy. Park made a potato soybean paste stew. She explained that when she was young her mother used to prepare this for her.
"The one that my mom makes tastes better. But when I get married and have kids, [the taste] will probably become similar," Park after trying her version of potato soybean paste stew.
As for So Ji Sub, he cooked ramen. The K-drama actor said he is impressed by the process of making ramen and how delicious it is.
"I don't eat ramen often, but at the end of a diet, I make sure to eat it. The process of making ramen in a variety of ways is delicious," the Oh My Venus actor said.
Another mission in the recent episode of Little House In The Forest is to dig up in-season root crops and eat them with rice. Despite the strong wind and heavy snow, the K-drama stars went outside with their hoes and dug up the roots.
So was pleased with his accomplished and said it could have been better if he dug in fair weather. Park Shin Hye, on the other hand, said digging up roots in snow is one of her unforgettable experiences.
Little House In The Forest follows Park Shin Hye and So Ji Sub's life in the forest as they find happiness in a simple and minimalist living. The show air Fridays at 9:50 p.m. KST on tvN.
© 2023 Korea Portal, All rights reserved. Do not reproduce without permission.