Lovelyz 2018 News & Update: Baby Soul, Jiae, Jisoo, Mijoo, Kei, Jin, Sujeong, Yein Have New Cute Member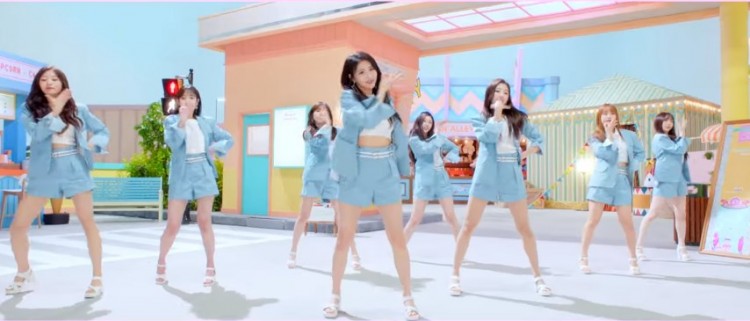 It looks like Lovelyz has a new member in a form of a cute dog named Candy. As the girls now dropped their new single, "That Day," it seems like fans are about to see the new addition to the group in the song's music video.
Candy is one of the three shelter dogs that have been saved from a fire in a breeding factory, where they were said to be abused. As Lovelyz graced a variety show to take care of the canines, they quickly fell in love with Candy.
According to All Kpop, after appearing on television, the shelter dogs were immediately adopted following the broadcast. But, Lovelyz decided they will take Candy instead because of her poor condition. The dog is reportedly suffering from a heart disease. Its tongue is also often sticking out as all of its teeth had been removed at the factory. Also, it is considered a senior dog.
Of course, upon seeing Lovelyz's good deeds, fans praised Baby Soul, Jiae, Jisoo, Mijoo, Kei, Jin, Sujeong, and Yein for what they've done. Netizens are also touched to hear Candy's story and saw how the girls love the canine. "Just like their album title, I hope Candy can heal, too," one fan said after learning what the dog had been through. Another supporter said that aside from having pretty faces, the girls also have beautiful personalities that match their looks.
Lovelyz introduced Candy on Music Bank. The lucky dog will also be featured in the group's latest music video, "That Day."
Meanwhile, Lovelyz officially released their new song, "That Day," on Monday, April 24. It is the title track of their latest album, Heal, Billboard reported. The song is said to be like a sugary pop dessert that is added to electronic sounds and is completed with the girls' sweet and airy voices. It also alternates from lively and energetic chorus to calmer and gentler verses.
"That Day" is produced by Sweetune. It is also Lovelyz's first song released this year. The song just proved how much Baby Soul, Jiae, Jisoo, Mijoo, Kei, Jin, Sujeong, and Yein matured since they were introduced in 2014. In fact, this is their first track that tackled the hardships of a break-up. However, knowing the girls' "youthful nature," the situation is being addressed in a very "refreshing" way.
© 2023 Korea Portal, All rights reserved. Do not reproduce without permission.