Kim Jong Un Deemed Cute By Koreans After What He Did At Peace Summit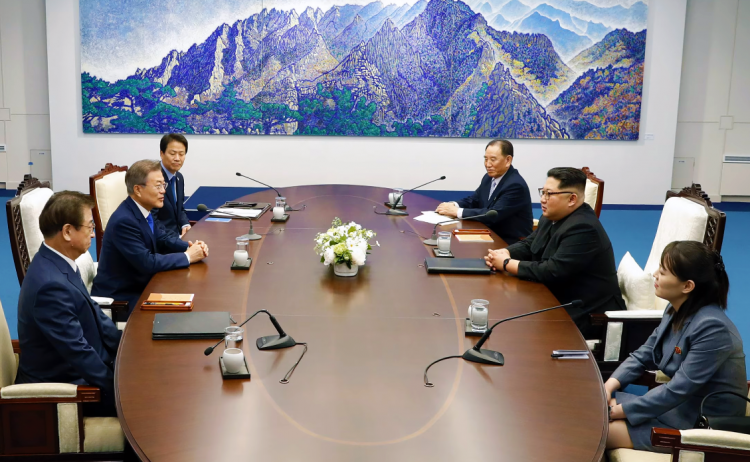 It seems Kim Jong Un is not the bloodthirsty and warmongering dictator as some people and countries portrayed him, at least for a moment. Such a moment was captured during the peace summit between North Korea and South Korea in Seoul.
Kim Jong Un and South Korean President Moon Jae In had an obligatory dinner at the historical summit where Kim had some trouble eating a dessert. The said troublesome treat was a large chocolate ball which had to be cracked open with a small hammer in order to eat it.
Apparently, Kim was not fond of the dessert as it was not present in North Korea. He even had a bewildered look on his face for a moment as he tried to figure out how to consume the said dessert. Eventually, he had to seek help and had to watch and learn from Moon since Moon already had his dessert open.
After learning from Moon, Kim proceeded to crack open his dessert with an accompanying smile in victory after defeating the strange delicacy in front of him—and his smile was that of pure joy from the close moment between two world leaders. This is perhaps something genuine and quite rare these days with all the scripted and planned interaction that usually occurs when two leaders meet.
Consequently, this also drove the South Koreans crazy and a lot of them found Kim's reaction to be cute and charming. Some could not even deny how adorable the Socialist leader was in the photo of the rare dessert moment.
This was perhaps the cherry on top of the cake which is the peace treaty between the two countries which have been hostile towards each other in the past six decades.
This was also one of the only few times when Kim was seen outside his country and in a foreign territory and is one of the most historical moments in the history of both North Korea and South Korea. Meanwhile, Kim finding the dessert puzzling is an indication of how much different the two countries are in terms of culture.
Nearly seven decades apart from each other with frequent hostilities has set both countries apart and a lot of them probably won't recognize the culture of the other or find it strange. This gap might soon get closed though if the peace between the two persist since North Korea might open its doors to other countries.
© 2019 Korea Portal, All rights reserved. Do not reproduce without permission.