Wanna One's Kim Jae Hwan Impresses 'King of Mask Singer' Viewers With His Powerful Voice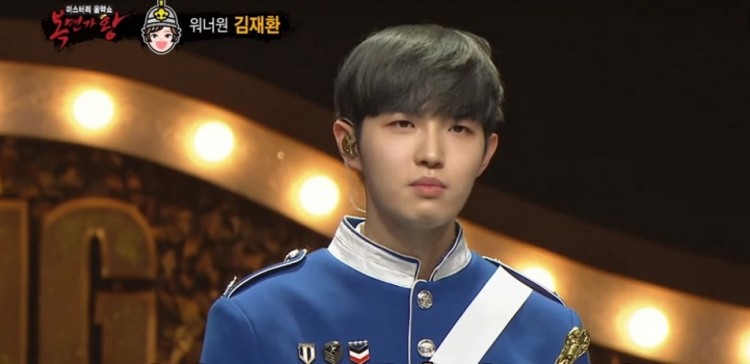 MBC's King of Mask Singer once again showcased the stunning voice of a K-pop idol. In the recent episode of the singing competition show, it finally revealed the identity of the idol in a mask, which was named "Royal Guard." It was none other than Wanna One member Kim Jae Hwan.
In this week's challenges, masked singers named Royal Guard, Goryeo Celadon, Master Carillon, Pricey Pottery, Organ Lady, Cherry Blossom Girl, Dandelion Girl, and the Gatekeeper competed against each other. Royal Guard sang "If You" along with Chief Gatekeeper in the initial round.
He then moved on to round 2 in which he sang Park Hyo Shin's classic song "Fool." The panel and the members of the audience were mesmerized by his powerful voice.
In the third round, Royal Guard performed a more upbeat track, Ailee's "Don't Touch Me." His song choice was completely different from his previous performance. The members of panel stood on their feet and sang along with him. The celebrity judges praised Royal Guard's versatility in choosing songs.
Unfortunately, the Royal Guard got eliminated, and the big reveal followed. The crowd was shocked when he finally took off his mask. They applauded cheerfully once they saw that the talented singer on stage was Kim Jae Hwan. The Korean idol expressed his gratitude for being part of the show.
"I've never been complimented as much as today in my entire life. It felt really good," Jae Hwan said (via AllKPop). Watch all his performances below.
Jae Hwan's bandmate Hwang Min Hyun also competed in the March 11 episode of King of Masked Singer. He performed Clazziquai's "Romeo N Juliet" in the first round, "Terius" in the second, and finally Oh Hyuk's "Comes And Goes" in the last round. Unfortunately, he also got eliminated.
Wanna One fans expect that more of their idols will also appear in the show this season. King of Masked Singer airs every Sunday at 4:50 p.m. KST on MBC.
The

King Of Masked Singer

Show
This year's season of King Of Masked Singer kicked off last month. The show is a singing competition, but the singers wear a mask to conceal their identity. In effect, it removed factors such as popularity, which could lead to biased voting. The identities of the singers are not revealed until they have been eliminated.
The singers for the week compete in three elimination rounds. In the first round, two contestants sing the same song, while in the second and third round they each sing a solo song. The winner will be selected by the audience and panel of celebrities via instant live votes. The winner of the third round will challenge the previous weekly winner to become the next King of Mask Singer.
© 2023 Korea Portal, All rights reserved. Do not reproduce without permission.