JBJ Tearfully Bids Farewell To Fans At Last Concert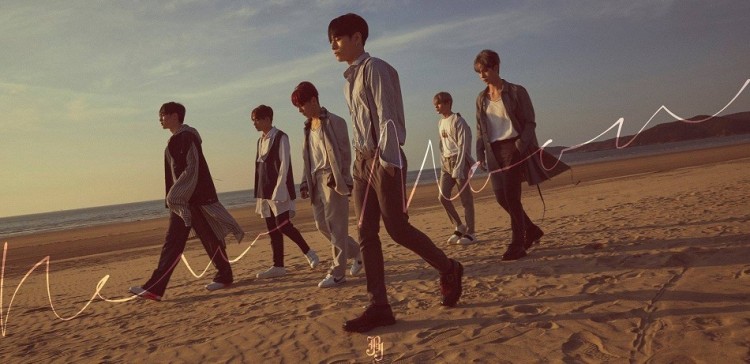 After seven months together, Korean boy band JBJ gave their fans something to remember them by in their last concert before they get disbanded on April 30. The K-pop idols bid their goodbye in a concert, titled Epilogue, over the weekend at the SK Olympic Handball Gymnasium in South Korea.
During the concert, JBJ not only performed their own songs but also did special solo and subunits' performances. Kwon Hyun Bin and Kim Yong Guk sang their self-produced track "Love U" as well as a cover of Heize's "Jenga." Noh Tae Hyun and Kim Sang Gyun teamed up for their song "Don't Leave Me" and also covered Fitz and the Tantrums's "Handclap." Kim Dong Han did a dance performance of Park Hyo Shin's "Snow Flower" and BTS' "Spring Day," while Kenta performed "Flower Road" of Kim Sejeong.
In a video shared by a concertgoer, JBJ was seen trying to gather himself before choking up with tears as they thanked their fans. They were also seen looking back one last time as they stepped off the stage.
JBJ Last Album
The K-pop idols released their third and last album, New Moon, and its title track "Call Your Name" last week. The group's members also talked about the new LP during their last concert.
All of them believe that it means something new is coming their way rather than it being the end of their career. Noh Tae Hyun said they are not sure yet when and how the new beginning will take place, but he hopes that they and their fans will all be happy when it does, Soompi reported.
"The moon changes from the crescent moon to the new moon. When you think it's over, it's actually a new beginning. That's similar to our situation now," Kenta added.
JBJ Disbandment
JBJ debuted in October 2017. The six-member group is composed of former Produce 101 Season 2 trainees that were selected by fans to form a new group. JBJ participated in a couple of reality programs including Just Be Joyful. They have also released three albums - Fantasy, True Colors, and New Moon.
The group was originally set to disband in April 2018. However, all members of the group expressed interest in extending their seven-month contract. There has been discussion over a possible contract extension until December 2018. But on March 14, Fave Entertainment decided not to prolong the contracts of the members.
A day later, JBJ confirmed that they would be releasing their last album on April 17. The band's fans, called Joyful, also hold a protest against the label's decision. They gathered outside the Loen Entertainment building, which houses JBJ's label, Fave Entertainment. They stood silently while holding banners and sunflowers.
Meanwhile, since most members of JBJ are from other boy bands before participating in Produce 101, they will go back to their former bands. Noh Taehyun will rejoin Hotshot while Kim Sanggyun will return to Topp Dogg. Jin Longuo will be backed at the Longguo & Shihyun, while the other members are expected to continue their solo careers.
© 2023 Korea Portal, All rights reserved. Do not reproduce without permission.