'Game of Thrones' Season 8 Theories, Spoilers, News & Update: Samwell Tarly Could Be The Prince That Was Promised, Evidence Revealed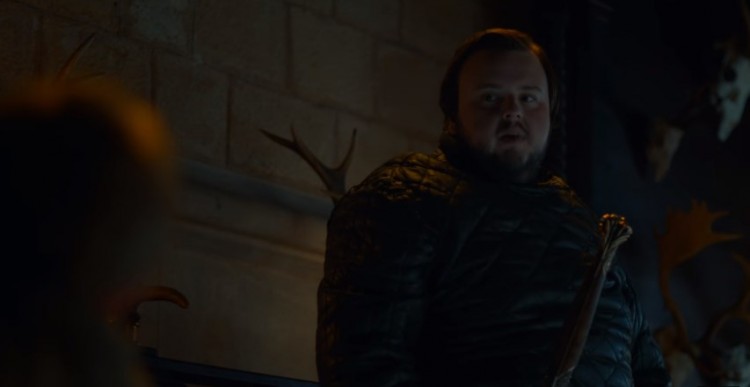 The talks about the Prince that was Promised have been lingering since the battle against the Night King and the White Walkers began. In fact, the real person behind this name remains a big mystery and the talks grow louder as Game of Thrones Season 8 comes. With a lot of assumptions about who this could be, there is a new theory saying that it might be Samwell Tarly (John Bradley).
Originally, the Prince that was Promised is a legendary figure from George R.R. Martin's A Song of Ice and Fire novel series which the show is based on. Here, he is a re-born hero from the mythical creature named Azor Ahai. The chosen one who will be leading mankind against the war with darkness by using the sword called the Lightbringer.
So could it be that Jon Snow's (Kit Harington) best friend, Sam, is the Prince that was Promised in Game of Thrones Season 8?
In a new theory shared by username MrSilenceT on Reddit, he claimed Sam is actually Aegon Targaryen. He is said to be the firstborn of Rhaegar Targaryen and his wife Elia Martell before he had a relationship with Lyanna Stark.
MrSilenceT explained Varys abducted Sam after Elia gave birth to him at King's Landing. He was then adopted by Rhaegar's ally, Randyll Tarly. It has been said Varys doesn't want to lose the prince. So, in an effort to protect him from Robert's rebellion, he gave him to one of Rhaegar's strongest and most faithful servants.
This just revealed Sam is the dragon's third head and another secret Targaryen. This, too, would make him Jon Snow's half-brother and also Daenerys' (Emilia Clarke) nephew.
In fact, to support the claim he could be the prince that was promised in Game of Thrones Season 8, Bustle compared Sam to his real parents. Unlike Randyll, who was a brave fighter, Sam is known for being shy and timid who doesn't know how to fight using a sword. This might be because he got his traits from his father, Rhaegar, who loved books and songs instead of joining in battle.
On the other hand, Sam is said to have his Dornish looks from his mom, Elia. Also, he inherited his mother's kind attitude, being clever, her sweet wit, and gentle heart. These points just proved Sam could possibly be the Hero that was promised and Daenerys' third rider for her dragon in Game of Thrones Season 8.
Games of Thrones Season is set to be released in 2019 on HBO.
© 2020 Korea Portal, All rights reserved. Do not reproduce without permission.