A Pink 7th Anniversary Celebration: Eun-ji, Na-eun, Ha-young, Bo-mi, Cho-rong, Nam-joo Release Music, Photo Teasers For 'Miracle'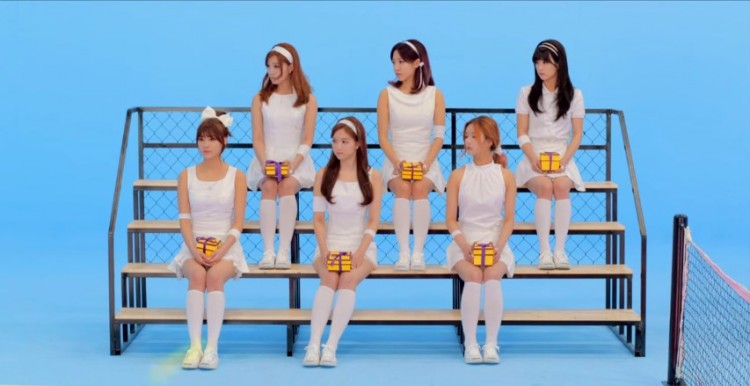 In celebration of A Pink's seventh anniversary, Eun-Ji, Na-Eun, Ha-young, Bo-mi, Cho-Rong, and Nam-Joo are about to release a very special song, titled "Miracle," for their fans - the Pink Pandas. The girls are now revealing little teasers for the upcoming single that makes their supporters even more excited.
Recently, A Pink unveiled a music teaser that lets fans hear a little part of "Miracle." According to All Kpop, the tune's melody is a soft piece that has the girls' angelic voices.
Aside from the much-awaited song, A Pink is also going to release a photo book based on the theme of their song, "Miracle." Here, Eun-Ji, Na-Eun, Ha-young, Bo-mi, Cho-Rong, and Nam-Joo are going to don different outfits that are inspired by some iconic movie characters. This, too, is said to match the imminent fan-meeting, called Pink Cinema, that they are going to hold for their seventh anniversary.
As the hype grows bigger, A Pink released their individual teaser images. For Namjoo, she can be seen wearing different pink outfits in the photos obtained by Soompi. In one snap, she is even lounging in a place where everything is pink, from a table to an armchair with two cute little dogs.
Hayoung, on the other hand, is wearing white dresses. In fact, she has turned herself into a beautiful bride by wearing a wedding gown. She can also be seen lying down on a white cloth while she is being surrounded by everything white. This makes her look like a fairy.
Additionally, A Pink also revealed Naeun's teaser images for "Miracle." Here, she goes artsy in holding a paintbrush, colors, and paintings. At one point, she can be seen sitting on the floor, staring directly at the camera, while her shoes are filled with color stains.
Chorong goes very classy for A Pink's "Miracle" teaser images. She is wearing a hat that compliments her white lacy dress. However, Bomi's promotional snap looks a little different as it is full of lively colors. Here, she is dressed like a kid while being surrounded by candies and cereals. Lastly, Eun Ji looks alluring in her see-through blouse while lying on a floral blue couch.
"Miracle" will be out on Thursday, April 19, in time for A Pink's fan meeting for their seventh anniversary.
© 2023 Korea Portal, All rights reserved. Do not reproduce without permission.