Kim Jong Un's North Korea Sends Threats To UK, Possibility Is Still There For A Missile Or Cyber Attack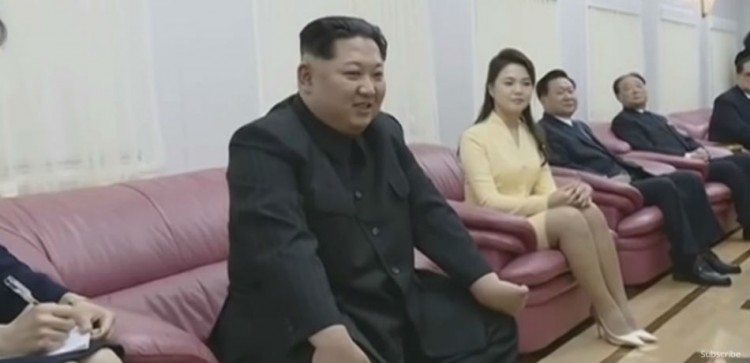 Kim Jong Un-led North Korea has now threatened the United Kingdom with "a miserable end" through "an act of war" for deploying warships off the Korean Peninsula. The threat also includes the said-consequence for the UK if its armed forces prefer joining South Korean or American military exercises.
Till the starting of 2018, the tensions between the United States and North Korea left many wondering if World War 3 is knocking on the door. But now, Kim Jong Un is all set to have talks with Donald Trump, which is expected to take place at the end of April.
A Korean Central News Agency, which acts as the mouthpiece of North Korea, issued a warning to the UK on Wednesday. The statement noted, "We solemnly warn not only the US and the puppet group but also satellites - including the UK and Australia, which are taking advantage of the present war maneuvers against the North, that they would face a miserable end if they join in," as reported by Mirror.
Kim and his advisors believe that South Korea and the US are mutually conspiring a defensive nuclear strike. They further believe that if the UK joins hand with these two nations, it will be impossible to protect North Korea's presence over the global map. Out of fear, North Korea, in a different statement, labeled the British soldiers "mercenaries," and further condemned the "US imperialists and South Korean war maniacs." The UK officials were blasted by Kim-controlled North Korea for simply "poking or interfering into affairs that are none of their business." The nation has also suggested the UK deal its domestic issues properly instead of getting in with others.
According to the reports, over 28,000 American troops are deployed in South Korea and Trump has warned Kim that his country would confront "fire and fury" if he threatens America. In response, North Korea threatened to fire missiles towards the US Pacific island territory of Guam.
Previously, North Korea had undergone six nuclear tests including launching ballistic missiles. It proved that it could strike anywhere in the US and UK. However, with its ongoing development with the US (as Kim is set to meet Trump this month), North Korea can only strike the US with its intercontinental ballistic missile or it can opt for a cyber attack. Hence, the chance of a great war is still not over.
© 2019 Korea Portal, All rights reserved. Do not reproduce without permission.