TWICE's Nayeon, Chaeyoung, & Jungyeon Are Certified Oh My Girl Fans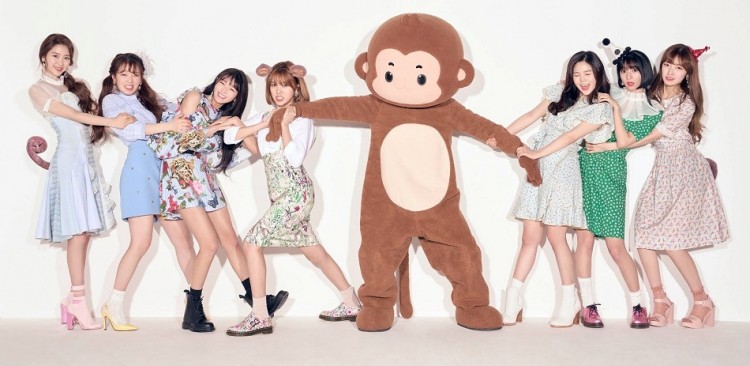 TWICE members Nayeon, Chaeyoung, and Jungyeon have shown the world that they are the biggest fans of K-pop group Oh My Girl. The three idols were spotted recently wearing matching sweatshirts of Oh My Girl.
TWICE has returned to South Korea after attending the 2018 KCON Japan. Fans and the members of the media gathered at the airport to greet the TWICE members. Three of them, Nayeon, Chaeyoung, and Jungyeon, caught the attention of many because they are wearing the same midnight blue sweatshirts with three monkeys printed in the front.
The sweatshirts are Oh My Girl's official merchandise for Banana Allergy Monkey album. The Korean girl group released the album earlier this month. Check out Nayeon, Chaeyoung, and Jungyeon's photos below.
Why TWICE Adores Oh My Girl So Much?
TWICE members have been very vocal about their admiration for their fellow K-pop female group. In fact, they want OMG to be their friends.
During a recent appearance on The Show, Nayeon and Jihyo fangirled over Oh My Girl. The two said they love the seven-member band so much and calling them "pretty" and "cute."
Moreover, Oh My Girl's Seunghee and TWICE's Jihyo are also good friends. Although they haven't talked to each for quite a while now, they remain friends. Jihyo previously made a statement that she has been trying to contact her friend in Oh My Girl to congratulate her for their recent achievements but she can't reach her because her pal from OMG doesn't have a phone.
During a previous interview with Celuv TV, Seunghee said she is the one Jihyo was talking about. The show's staff then showed to her Jihyo's message. Seunghee got emotional and thanked her friend. When Oh My Girl members were asked to name the idols they'd like to talk to when they get their phones, Seunghee said she wants to talk to Jihyo.
Oh My Girl's
Banana Allergy Monkey

Album

Although it is a unit LP, all members of OMG can be heard in the album. The title track "Banana Allergy Monkey" was sung by the group's sub-unit Banhana, which consists of Hyojung, Binnie, and Arin. The rest of the group sang the other tracks in the album. The song "I'm Not In Love With You," however, was sung by Seunghee alone.

Hyojung has revealed that they have first heard of "Banana Allergy Monkey" about a year ago, but the song was written a decade ago by a producer of the band's agency, WM Entertainment. Hyojung, Binnie, and, Arin are grateful to be chosen for the sub-unit that sang the song.
Twice is wearing Oh My Girl BANHANA limited shirt!

What a supportive junior group!#ohmyTwice pic.twitter.com/wXTcLlGYkE

— Oh My Girl Facts (@omg_promoter) April 16, 2018
© 2023 Korea Portal, All rights reserved. Do not reproduce without permission.