TVXQ Surprises EXO-CBX Fans With Special Treats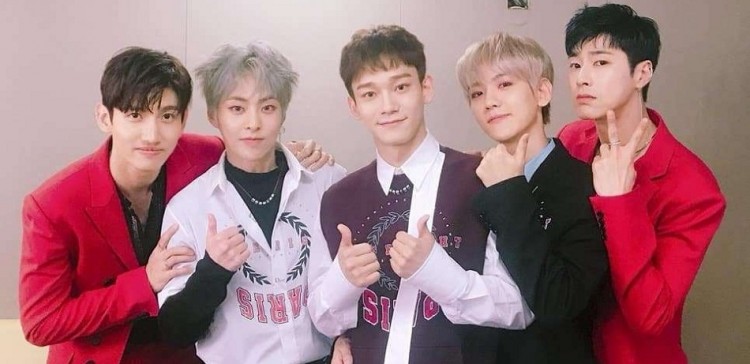 TVXQ's Yunho and Changmin are not just Asia's music icons. They also have good hearts, not only to their fans but other K-pop idol fans as well. The Korean pop superstars surprised the fans of EXO-CBX with sandwiches and drinks. It was a simple treat, but EXO-CBX and their followers sincerely appreciated it.
EXO-CBX member Chen shared on Instagram a couple of photos of him showing the special meal from Yunho and Changmin of TVXQ. The two sent the treat to the set of SBS' Inkigayo. EXO-Ls were greeted with a food truck, prepared by TVXQ, serving them with a set of sandwiches and drinks.
"Please take good care of EXO-CBX! TVXQ hyungs are cheering them on," TVXQ wrote on the sticker label attached to each meal.
EXO-CBX member Chen expressed his appreciation for the surprise treat. He said his group should be the one to treat TVXQ because they lost in a bowling match with the duo. But instead, Yunho and Changmin sent a treat to their fans.
Chen jokingly added that they would work hard and practice more if TVXQ agrees to a bowling rematch. He also thanked their fans, TVXQ, and Super Junior for supporting them throughout the week of pre-recording and the live broadcast of SBS' Inkigayo.
"Our EXO-Ls who came to support us over the past week at pre-recordings and live broadcasts, thank you for always giving us strength. Also TVXQ and Super Junior who took good care of us while promoting together for a week! It was so fun to promote together for a week!! Thank you. TVXQ hwaiting!! Super Junior hwaiting!! We will also cheer you on always," he concluded.
SM Entertainment Artists' Reunion
EXO, TVXQ, and Super Junior are all under the same label, SM Entertainment. EXO-CBX is currently promoting their comeback EP called Blooming Days. TVXQ recently released their new album New Chapter #1: The Chance of Love, while Super Junior has dropped a repackaged album and its title track "Lo Siento."
Aside from Inkigayo, the K-pop idols also had a mini-reunion in KBS' Music Bank along with their other labelmate, Red Velvet. The female band member Wendy performed her duet "Spring Love" with Eric Nam. Her bandmates Irene and Seulgi also arrived in the show to support her and also joined the reunion of SM artists backstage of Music Bank.
Meanwhile, TVXQ is slated for a comeback concert, titled TVXQ! Welcome Back Party: The Chance of Love, on May 5 and 6 at the Jamsil Sports Complex in Seoul, South Korea. EXO-CBX, on the other hand, will be dropping their first full-length Japanese album, Magic, on May 9. A concert tour in Japan, dubbed as Magical Circus, is also scheduled on May 11.
180415 첸백시 인기가요 동방신기 선배님들 역조공 샌드위치+음료수 대박대박 pic.twitter.com/diGQwMCl2y — 로케(。ì _ í。) (@99anythingelse) April 14, 2018
© 2023 Korea Portal, All rights reserved. Do not reproduce without permission.