I-DLE Official Debut Update: Cube Entertainment's Girl Group Shows Incredible Talent By Covering BTS, 4minutes, CL [VIDEO]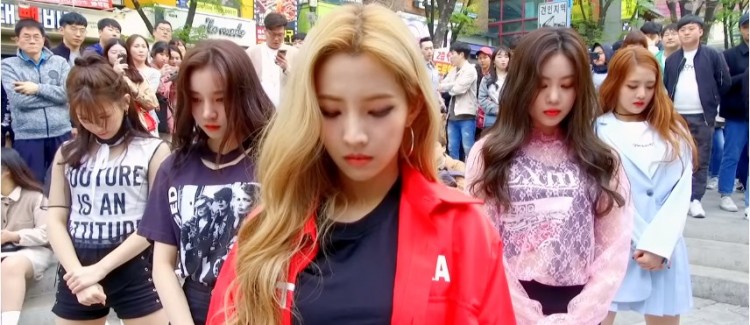 Cube Entertainment's new girl group, I-DLE, is now making a scene and starting to be known. As the group is about to be officially introduced, they showed their invaluable talents on the busy street of Hongdae.
In collaboration with Dingo, I-DLE went out of their way and created a mini-show for the public to see. As people started to gather and watch them, the girls revealed what they got by covering CL's "Hello B*****S," 4minute's "Crazy," and BTS' "Mic Drop."
I-DLE just showed what fans could expect from them the moment they officially debuted, Kpop Line reported. With their different kinds of style and excellent dancing performance, viewers will surely find something good.
Cube Entertainment has yet to introduce I-DLE as the group is slowly unveiling their new members to the k-pop world. For their first two performers, Miyeon and Yuqi were presented as part of the upcoming girl group. From the start, Jeon So Yeon was the only known member of the South Korean band.
The entertainment company introduced the two with teaser images that revealed their truly stunning looks, per All Kpop. After that, Cube Entertainment next presented two other members of I-DLE - Soojin and Shuhua. It also showed another teaser image to let fans be familiar with their looks. In the snap, Soojin can be seen unwrapping a red lollipop while Shuhua was staring blankly straight at the camera with a yellow background.
Lastly, Cube Entertainment unveiled the last two performers of I-DLE - Soyeon, and Minnie. Just like how Miyeon, Yugi, Soojin, and Shuhua were introduced, their snaps were placed in colorful backgrounds. It has been said that the different colors that come with the girls' introduction have something to do with their theme - that will be part of their debut. All in all, the upcoming girl group has six members that are set to entertain k-pop fans.
Meanwhile, I-DLE already revealed their official social media accounts to the public. From here, fans will know what they will be up to and other details about the group. The South Korean stars can be followed on Twitter, Facebook, Instagram, Weibo, and, of course, their very own fan café.
I-DLE means GIRL-I-DLE or they can also be called G-I-DLE. After being shrouded in mystery, their official members are now revealed and just waiting for their formal debut. So, it looks like fans still have to wait and follow them on their SNS accounts for more details.
© 2023 Korea Portal, All rights reserved. Do not reproduce without permission.