North Korea's Kim Jong Un Welcomes Chinese Diplomat Song Tao, Talks On Bilateral Relations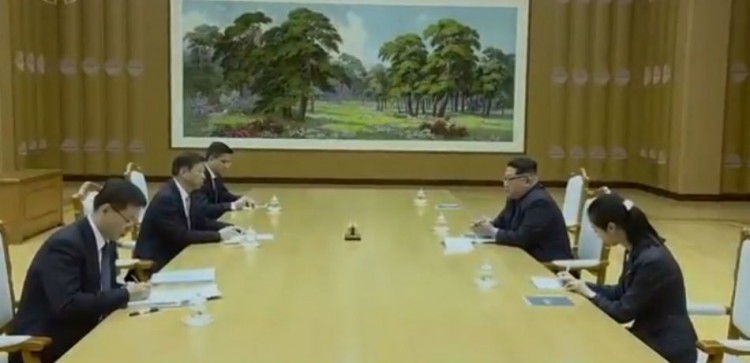 The tie between North Korea and China is gradually developing faster than with the United States. According to the North Korean state media, Kim Jong Un has recently met a senior envoy from Beijing and feted him with a gala dinner. This indicates a closer tie between the two nations, a step taken to make it after Kim's shocking visit to Beijing in March this year.
The Chinese diplomat named Song Tao was highly welcomed last Saturday by the North Korea's supreme leader Kim. A Chinese art delegation also visited the capital city Pyongyang to perform, again an attempt from Xi Jinping-led government to make China's tie with North Korea stronger than before. Kim was seen giving a warm hug to Song Tao and then the pair had gone for dining in a large hall beautified with a giant photograph of Xi Jinping and Kim that was taken in March.
The sources say that Kim exchanged "deep thoughts" with the Chinese diplomat on global issues of concern to both the nations. He also promised to strengthen bilateral relations so that both the countries are benefited. According to the reports, both the countries will have their contributions towards safeguarding peace and stability on the Korean peninsula. However, the reports did not reveal if they had detailed discussions on Kim's upcoming summits with the US President, Donald Trump and South Korea's President, Moon Jae In "to defuse a standoff over the North's development of nuclear bombs and ballistic missiles," as published by The New York Times.
The above-mentioned source also reported that the warm reception provided by Kim was surely a reciprocal gesture. It was only Tao who greeted Kim on the border when he visited China last month to meet Xi Jinping. Tao also accompanied him in his special train to China's capital city, Beijing. The Chinese art troupe showed wonderful performance at the Mansudae Art Theatre, which was gladly attended by Kim's wife Ri Sol Ju, although the leader was not present there.
Till the end of last year, Kim was completely against any talks on ending his nuclear weapon program, but his recent changeover to meet the US President and shift towards dialogue have highly surprised everyone as he was mainly considered a warmonger.
© 2019 Korea Portal, All rights reserved. Do not reproduce without permission.