Where Donald Trump & Kim Jong Un Will Meet – The United States & North Korea In Detailed Discussions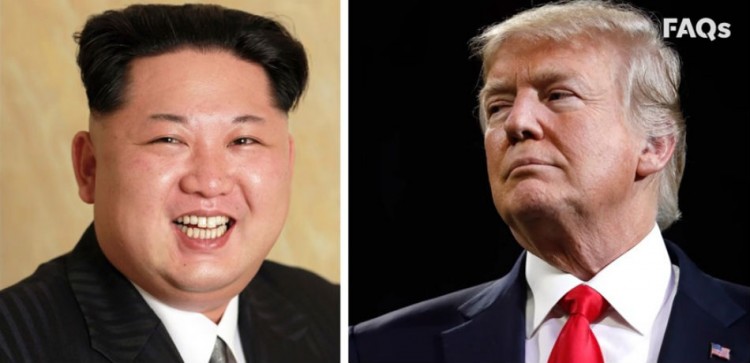 The definitions of denuclearization are different to North Korea and the United States. However, North Korea's dictator, Kim Jong Un seems to be quite ready to discuss denuclearization with the US President Donald Trump at a widely anticipated summit next month.
While the American officials are in direct talks with the North Korean ministries to generate a meeting with Kim Jong Un with Trump, South Korea's President, Moon Jae In will also be a part of the meeting. Recently, he said that the two were discussing where to hold the much-awaited meeting among other issues.
While the date for the meeting between the two Korean leaders is already slated to take place on Friday, April 27, the date for the meeting between President Trump and North Korea's Supreme Leader is yet to be fixed. While preparing for the meeting (for April 27), the South Korean leader said to the media that the "US and North Korea have been preparing for the summit with both will and sincerity," and the negotiations over the venue, time and agenda are still going on.
He further added that his expectation is to see that both the nations taking significant steps towards denuclearizing the Korean peninsula and establishing permanent peace there, as reported by The New York Times. It is also expected that his presence at the meeting between the two will persuade the North Korean leader to take apart Pyongyang's nuclear weapons programs. In January this year, Kim Jong Un surprisingly changed his direction with diplomatic proposals initially to South Korea and then to the US. By doing so, he has surprised the entire world, which was never expected from him.
According to The Korea Times, the North Koreans want Trump to meet their leader in the capital city, Pyongyang. However, the Americans want the reverse. They do never want their President visiting North Korea, as the opponent will obviously be in the role of the head of state. To the Americans, it also means he will be welcoming "the American guest as a supplicant seeking his approval."
Hence, the CIA reports that the Americans are enthusing the meeting to be held at the border village of Panmunjom, which lies in the demilitarized zone between the two Koreas. Panmunjom is a truce village where both the Korean leaders are going to meet on April 27.
© 2023 Korea Portal, All rights reserved. Do not reproduce without permission.