MAMAMOO's Wheein Shares A Glimpse Of What To Expect On Her First Solo Album 'Easy'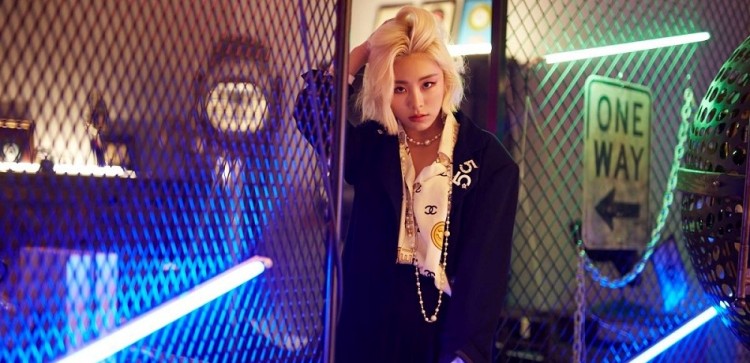 MAMAMOO member Wheein drops the first promo photo and teaser video for her upcoming solo debut album titled Easy. MAMAMOO's label, RBW Entertainment, earlier confirmed that Wheein is releasing her first solo album. Several hours later, the first teaser materials for the album were shared online.
The first photo for the Easy album shows the singer clad in a Chanel long-sleeve top that is paired with a black blazer. She accessorized her outfit with a long beaded necklace and a couple of brooches. Wheein is also sporting blonde hair.
The teaser clip, on the other hand, shows Wheein asking a mysterious artist to be featured on her upcoming song. Throughout the entire conversation, the MAMAMOO idol couldn't contain her excitement. After the phone call, she silently screams in happiness.
It looks like she gets a "yes" from the mysterious artist. RBW Entertainment earlier said Wheein played a major role in creating her solo album.
Wheein's Easy album will be available starting on April 17. Korean speed skater Kim A-Lang is expected to be one of those who will buy Wheein's new album. Netizens recently pointed out how the K-pop idol and the athlete resemble each other. In a recent interview, Wheein said many of her fans also told her about Kim. The singer added that she finds it fascinating that she and Kim are born in the same year and are from the same town of Jeonju.
MAMAMOO's "Everyday" Special Single
Wheein, along with the rest of MAMAMOO, recently dropped the music video of their latest song, "Everyday."
MAMAMOO has released its sixth mini-album, Yellow Flower, earlier last month. It is a follow up to their Purple EP which was released in June of last year. Subsequently, they also dropped its title track, "Starry Night." The song has won several awards from different music shows since its release on March 7.
Wheein's new solo album is part of MAMAMOO's spring-themed new EP and the group's "Four Seasons Four Colors" project. The group earlier said the album will feature mellow tunes and each member's individual charms. Aside from Wheein's solo project, Solar will be having her first solo concert later this month as well.
© 2023 Korea Portal, All rights reserved. Do not reproduce without permission.