BTS Identical New Hair Color And Style; #BTSBlackHairParty Trending Worldwide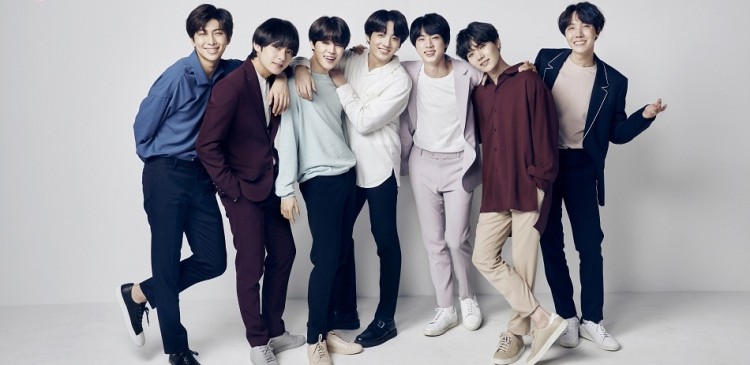 Black is always the new black, at least for BTS members. All of the band members have changed their hair color to black and the BTS Army is freaking out. Many are probably heading to their salons right now to have the same look as the Korean boy band members.
BTS has been known for having colorful outfits and hair color. Since their debut in 2013, at least one member has had a different hair tone. Most members of the Korean boy band dyed their hair. They have been fashion icons to many because of their unique style. It wasn't until now that they have been seen sporting the exact same hair color.
During a fan sign event for the apparel brand Puma, their fans were surprised to see J-Hope, RM, Jimin, V, Jin, Jungkook, and Suga having the same hair color. Many of the BTS Army were pleased with the band's new hairdo, making the hashtag #BTSBlackHairParty a trending topic on Twitter.
"Y'all we have been waiting for this for almost 5 years tbh it was one of my wishes," one fan commented.
The new black hair color of BTS members is first seen in an LG ad. However, many were skeptical at first that it could have been photoshopped. However, when the band appeared in Puma's fan event, it was confirmed that they indeed all have identical hairdos. It is also important to note that all BTS members also have black hair in their "Euphoria" MV which was released last week.
Why BTS Changed Hair Color?
The band did not exactly say why they decided to have identical hairstyles and color. However, it is most likely because of their new product endorsement deals. Aside from Puma, the seven-member boy band has been named as the new product endorsers of LG Electronics.
BTS will be the new face of LG smartphones. The company is scheduled to launch its new handset in June. LG said in a statement that the company has chosen the "Mic Drop" singers because of the group's talent and authenticity makes them a great match for its smartphone brand. The company hopes that the K-pop group will draw attention to their products on the global market.
BTS has proven their brand value as soon as LG made the announcement and released a photo of the group. In the snap, the boys are seen leaning on each other while dressed casually.
The LG Twitter page garnered more followers. The BTS image alone gained 70,000 likes, more than 40,000 retweets, and over a thousand comments.
© 2019 Korea Portal, All rights reserved. Do not reproduce without permission.